Hi!
I might be wrong, but it seems to me there is a mistake with the Checksums on the download-page.
The Raspberry Pi 1 Release 2019.10-1 has the same Checksum as the Raspberry Pi 2+ Release 2019.10-1: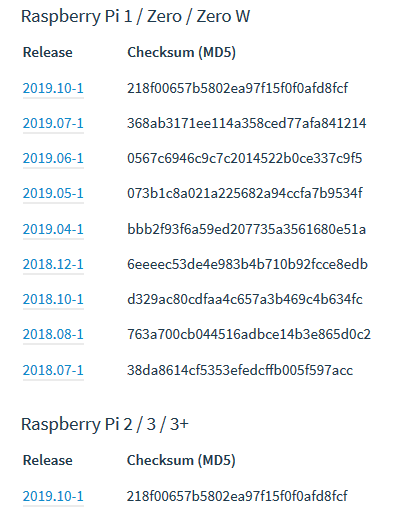 Also, on the ftp-server, the checksum for the Raspberry Pi 1 is different, see here:
http://ftp.fau.de/osmc/osmc/download/installers/diskimages/OSMC_TGT_rbp1_20191104.md5
so I guess, this one is wrong on the download page…
Apart from that, I had problems booting the new image for the Raspberry Pi 2+ on my Raspberry Pi 3B, however, I still have to cross check the problem with another image to rule out a hardware problem (e.g. with my SD card). In case I can confirm the problem, I will open a new thread for that…
Thank you for developing OSMC!