So I downloaded the image file OSMC_TGT_rbp2_20191104.img.gz for my Raspberry Pi 3B.
I flashed it to my SD card (in Linux) using umount to unmount and gdisk to completely clear the SD card and then
$ gzip -dc OSMC_TGT_rbp2_20191104.img.gz | pv | sudo dd of=/dev/mmcblk0 && sync

to finally flash it.
I inserted the SD card to my Raspberry Pi but nearly instantly received the following error message: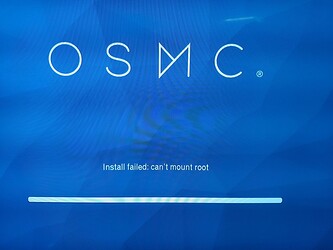 The file install.log existed on the SD card but it was empty.
I tried this several times with the same result.
To rule out a hardware (or another) problem, I tried the same with the previous image file OSMC_TGT_rbp2_20190808.img.
That worked just as expected.
Therefore I assume there is a problem with the newest image file. Maybe just something easy like a permission problem on the partitions?
I hope the problem is not on my side. Please let me know if I can provide additional information.