Hi
H264 movies are in black and white with color stripes…
To get a better understanding of the problem you are experiencing we need more information from you. The best way to get this information is for you to upload logs that demonstrate your problem. You can learn more about how to submit a useful support request here.
Depending on the used skin you have to set the settings-level to standard or higher, in summary:
enable debug logging at settings->system->logging

reboot the OSMC device twice(!)

reproduce the issue

upload the log set (all configs and logs!) either using the Log Uploader method within the My OSMC menu in the GUI or the ssh method invoking command grab-logs -A

publish the provided URL from the log set upload, here
Thanks for your understanding. We hope that we can help you get up and running again shortly.
OSMC skin screenshot: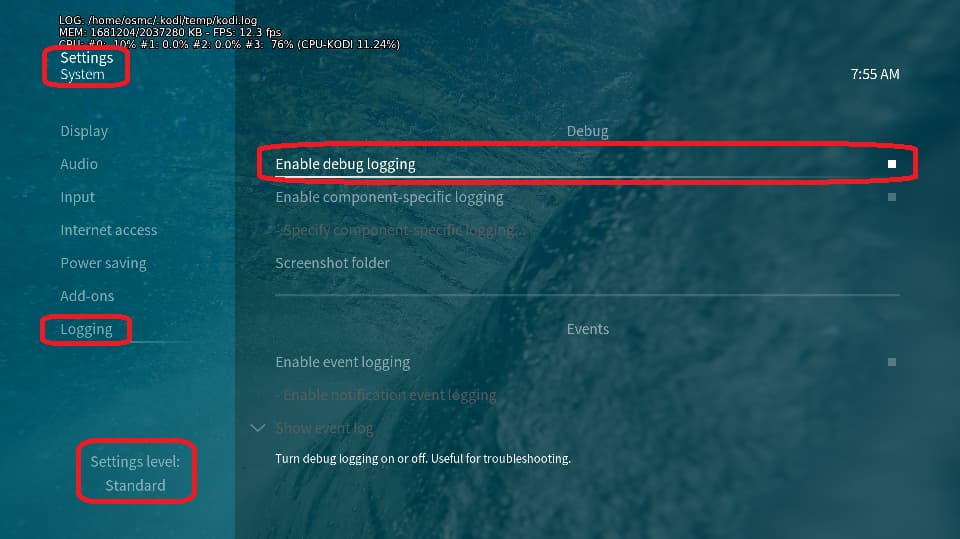 In fact there are 2 problems:
1/ among the recent files there are only 2 films (in MKV or MP4 in H264) which present this problem.
These 2 films are perfectly read on any other device but on Vero they are in black and white with these bands of colors that streak the screen.
I add that these 2 films were added to the media library AFTER the update.
Being told that it could be a problem with copies on the NAS, I removed them from the media library and deleted them from the NAS to copy them again without result: still unreadable.
2/ my remote control (Samsung AA59-00582A) is broken. Since the October update it crashed from time to time, but now it no longer works.
Do you have a scrambled bottom part that is also above the OSD?
Can you post a picture of the screen?
As my Samsung remote is not working I have to use the OSMC remote and I can't find the OSD

.
The screen: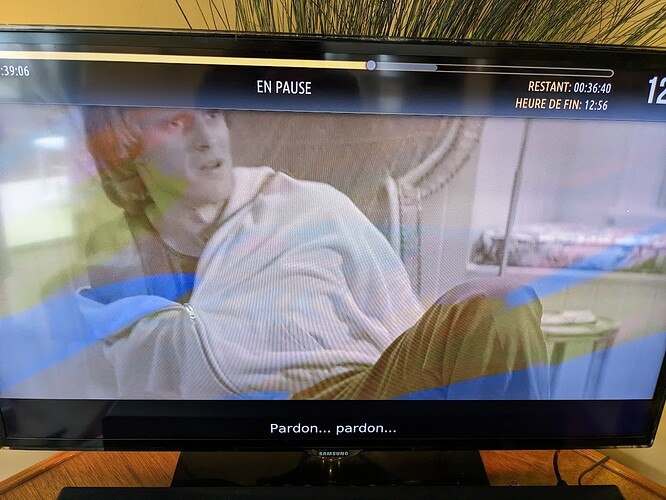 Please turn on debug logging for Kodi.
Sorry.
New Log
New snap: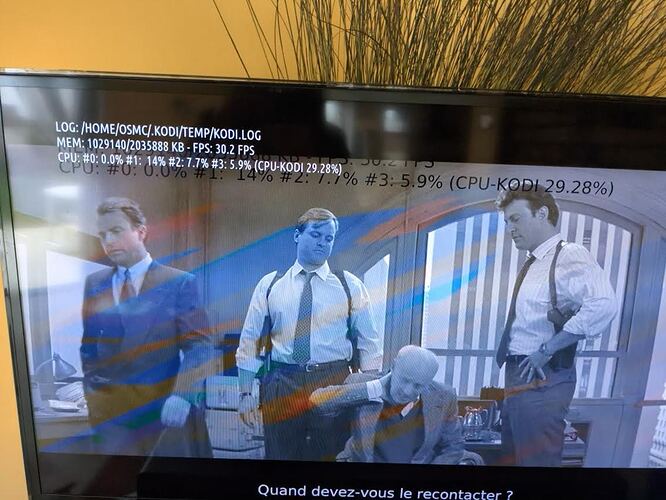 Hello
sorry to revive this topic, but if I'm the only one having this problem would there be a way to go back to an earlier version without losing everything?
I have a Vero 4k+. Similar error with me since the last update.
It affects H264 encoded movies with hardware acceleration enabled.
I enlarge the videos to reduce black bars.
The picture is correct in "original" mode, but becomes black and white with coloured shadows when scaled up to 1.02 per cent (same as user @Sventovit). Further scaling to 1.03 image is correct again. At 1.04 image black/white with shadows. During scaling, the image is alternately OK or black and white at different values.
This problem does not occur when hardware acceleration is not activated.The error also does not occur with MP4 encoded material.I also did not notice the error with MP4 encoded material.
I also did not notice the error with MP4 encoded material.
Hi
I have the same problem after update
Same thing for me , besides all movies playing sluggish its not like before!
MP4 is a container not a encoding format so I guess they are also h264 but mediainfo would tell you the details
Hi
I have the same problem as described in the post of video problem after jan update , actually all my movies not playing fluidly as before and some of them have to chose normal mode otherwise it becomes black and white with blue strips so it's certainly due to the new update because I had no issues before
Thanks
Hers the log
https://paste.osmc.tv/hifokifuxi
Another one
Since your issue didn't seem to be unique I deleted the new thread you started and moved your post here.
Ok but it's a serious issue we need un explanation, theres wasn't before the update
Thanks
Nobody is saying otherwise. Why are you using Kodi's calibration to reduce the video size? It shouldn't be necessary if you disable overscan on the TV. It may be called "just scan", "screen fit", "HD size", "full pixel", "unscaled", "dot by dot", "native" or "1:1".
For me is the same issue too, but with SD tv channels. HD channels are ok. (Vero 4K+)
I didn't used kodi video calibration, and however I change the tv screen calibration has no effect on screen size
Anyways its not related to this its about the recent update ai had no any problem before, videos not playing fluidly
Maybe configured long time ago, but surely it's configured.
            <description>1920x1080 @ 60.00 - Full Screen</description>
            <subtitles>1041</subtitles>
            <pixelratio>0.982175</pixelratio>
            <overscan>
                <left>44</left>
                <top>38</top>
                <right>1886</right>
                <bottom>1052</bottom>
            </overscan>
        </resolution>

While true the issue seems to have started with the latest update it seems to effect hardware accelerated H264 which is changed by calebration setting