Hi Guys
Ive run into a bit of a problem. I have 4 raspberry pi's in the house and store all my media on a central qnap server…
I decided over the weekend to try and share my libraries using an advancedsettings.xml, everything seamed to go well until i tried after it had updated the library to go in to my films and tv shows that I used to see like this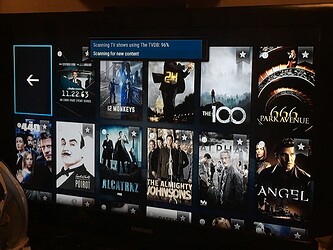 Now wont show, and all I het is this. Apologies for the bad photograph but hope you understand from the photo. It showes sources icons only!

The 2 scripts i have complied from help from other sources are:

If anyone can help me with the coding I would much appreciate it as I'm really stuck and not quite sure what I'm doing here and I'd love to get my Film/episode Icon screen back. I am a bit of a noob when it comes to programming, but we all have to start somewhere.
Thanks