Hello!
I just got my vero 4k in the mail, very happy to move from my old rasp. pi to this nice box!
I plugged it in, ran the configuration, and then turned on ssh, configured a couple other things, mostly with my audio. I then logged in via ssh, and I noticed that the load on the system was: load average: 2.31, 2.33, 2.23… that seems a bit high for it not doing anything!
Looking at top, I found it was kodi.bin that was eating 20% of the CPU, huh! That seems a bit high for something that is currently not even doing anything. I'm attaching a screen capture of top: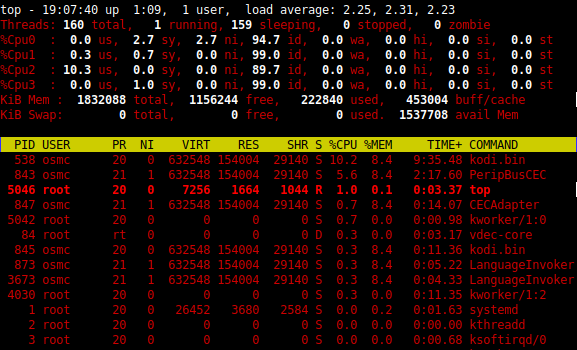 Sometimes, kodi jumps much higher, here it is doing 63.2% of the CPU:
 538 osmc      20   0  632548 154004  29140 R  63.2  8.4  15:13.31 kodi.bin                                                                                                         

Things will work fine, I know… but it seems like kodi is going a bit nuts and needs to be tamed!
So I looked at what I changed in my settings, and I found that when I went into System->Audio (selecting the first option in the Audio submenu, which is Audio output device), the CPU usage jumps from 2-4% usage when idle, to 20% usage… just by being in the menu! Not doing anything. Dropping out of the audio menu, the kodi.bin process drops back down to the 2-4% CPU usage.
I think the only things I changed were to set the Number of channels to 5.1 (I have surround speakers), the Allow passthrough → DTS-HD receiver (which is what I have), and enable audio DSP processing. Not sure if those settings are good or not, but reverting them didn't seem to change the CPU spikes when I'm in the menu itself.