Hi there, I have read a few of the existing OSMC forum posts about running a multi-room setup and this useful Kodi MySQL wiki article and I think I have a plan for how I will implement my own setup. I have two separate rooms that I want to be able to play media in:
Living room - audio only
TV room - audio + video
So far my plan to do this looks like the below but before I rush out and buy any hardware I thought I would post here to see what other people thought of my plan and in particular if there were any potential (or actual) pitfalls with it.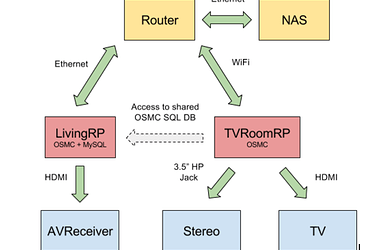 Thanks in advance for any comments!