Hi,
I was using OSMC on RPI B+ and it was such an enjoyable experience so i decided to upgrade to RPI 2.
I bought one and did a fresh install using latest downloadable version, almost everything went fine, WiFi, screen resolution, audio output to analogue, but, the skin looked ugly, it was a blue background with no effects and the text didn't look right, or at least looked worse than what i had on RPI B+
I thought i needed to update so i updated using OSMC and restarted then updated using apt-get and all the same, i checked screen resolution and verified that both are at 1080p.
I'll attach photos taken by my mobile for both, background difference won't be clear but i hope someone will notice.
RPI 2 photo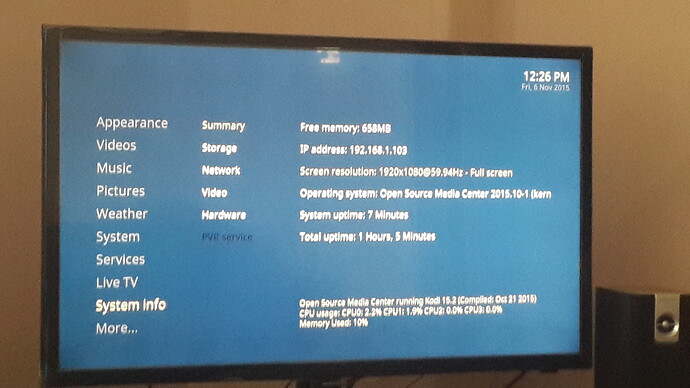 RPI B+ photo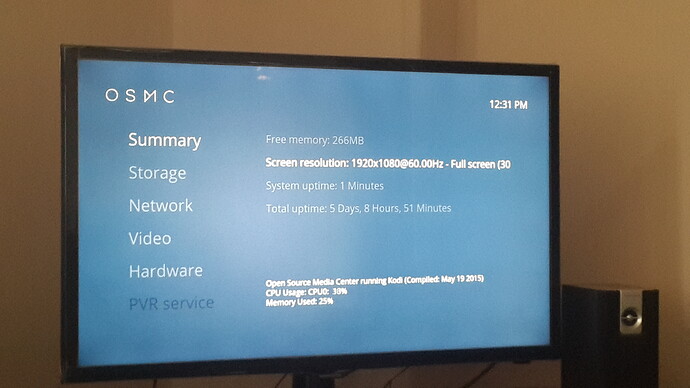 Also, on RPI B+ i never experienced white noise, but on RPI 2 i always experience white noise using same analogue output and same volume, however, i noticed that the white noise disappears after a couple of idle seconds, then once i do anything it is back.
One last thing as u'll see in the below photo, i always get prompt on RPI 2 of PVR, i haven't configured PVR as i don't have one and i haven't made any changes to any configurations, this is a fresh install without even any media added to library.