I'm running OSMC on a Raspberry Pi 3b. I have a 32 GB flash drive attached. Here is the entry in /etc/fstab:
UUID="9206-E16B" /mnt/medialib vfat defaults,dmask=000,fmask=111 0 3
And from the DF command to show usage:
/dev/sda1 30027760 18256720 11771040 61% /mnt/medialib
I recently tried to add music from John William's 3 disk set, but got errors for some of the tracks, see attachment.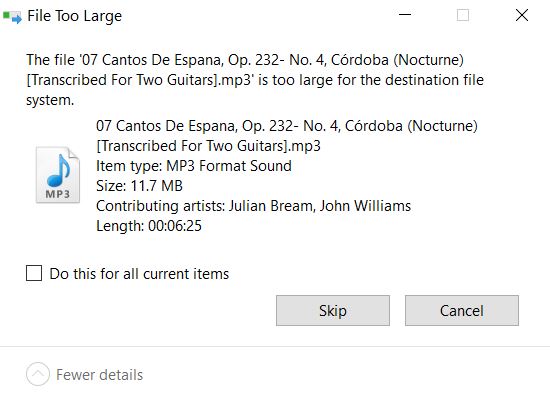 If I read the DF output correctly that device is only 61% full and thus there should be plenty of room? The example file in the figure is about 12 mb, but I have others which are in the 4-5 mb range.
Obviously there is something about this that I'm not understanding. Can someone enlighten me? Thanks…RDK
Edit: additional info, Medialib is shared to my network using SAMBA and I'm copying the files from a folder on my Win 10 computer to that share