Hello,
I am new here on OSMC (used to have custom kodi isntallation).
Anyway, I just noticed that my OSMC requested (or send) something from/to stats.osmc.tv.
I am not quite sure what it is, and couldn't find much info about it.
not many request but they exist: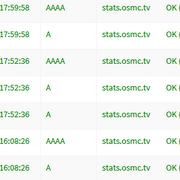 So… what is it?
Thanks