Hi,
I just bought my Vero 4K+.
I used to be an enthusiast spending alot of time tweaking and tailoring things to my taste.
But by age, I appreciate finished solutions more and more. Life don't give me alot of time for contributing in forums like this anymore.
Been a long time Samsung telly-owner and all flat screens I've owned have been Samsungs.
To my disappointment, I discovered my last purchase (UE65MU7105) did'nt have DTS-support, only Stereo, Dolby Digital and Dolby Digital+. I won't be buying anymore Samsungs after this.
But now I did, and I have tons of DTS-coded files in my library which I cannot play with the client (upnp) built into the SmartTV. Bummer…
Very well… I have a Denon AVR-2400H with all surround tweaks I can think of so I figured I only needed a good media player as a shortcut to HDMI in my SmartTV, instead of a shortcut to the Samsung UPnP-client.
Having run Kodi from time to time (Popcorn Hour, MiniX & Raspberry Pi), I decided to walk the whole nine yards and get the best. Of course 4K and Gigabit where needed. Since I were planning on passing audio through to my Denon (since the telly cannot decode DTS), SPDIF/Toslink where most important.
Instead of looking at the cheap Chinese ones, it fell on Vero 4K+.
But I must say it's been a nightmare getting this to run. It seems worse than any Kodi-player apart from 4K-support, stability and gigabit. Audio-setup does not work for me.
My objective is this: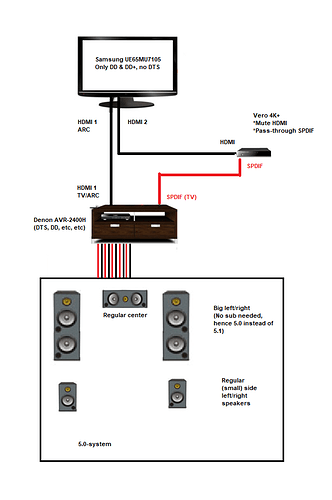 As can be seen, I need to wire the video to the TV, but the audio to the AVR.
Problem is, I cannot get HDMI and SPDIF separated. Of course, I want to do all decoding in the AVR so pass-through is also desired.
In best case, I wire everything to the AVR, but that involved a second remote control which is highly unwanted. But even then, all I get is full stereo sound (displayed in the AVR as "Stereo") or Digital Dolby (displayed in AVR display as "DD+DD") but without dialogue (missing channel), no matter what configuration I use.
Never DTS, and never with all channels.
I thought I bought myself some time buying the Vero 4K+, but as too many of the gizmos I buy, it seems like an unfinished product still in development, missing key features ending up costing me endless hours just to get up and running.
Of course, I might be wrong and it might be lack of knowledge that is the case. If so, I apologize, but still Vero 4K+ has not met up with my expectations. Hopefully: yet…
Hopefully, someone here can set me straight and let me know how to accomplice the setup pictured above.