Today i changed my yamaha avr a820 to denon avr x4500h, the testfile lg chess (LG: Chess HDR UHD 4K Demo | 4K Media) gave a black screen, while this first played direct on tv 2018 q9fn it didn't, even not when i tested it in shop on another yamaha avrx-a1080 after adjusting tv and avr into 4k mode 1 and uhd color on.
Is this the same issue as mentioned here?
My new avr is not able to display 4k 60 hz/fps with this 10 bit 422 while yamaha seems to be able as my tv
Yamaha
TV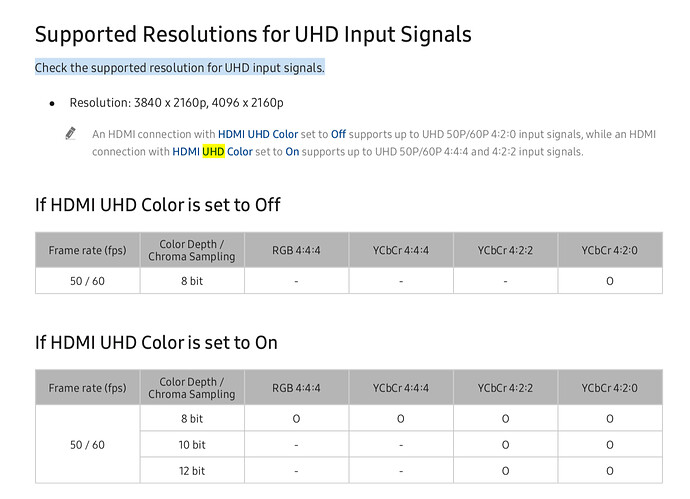 Avr x4500h
The ave is put to 4k enhanced and tv is uhd color set on.
I solved the black screen issue by enabling force 422. Is that the solution for this issue on denon, which i didn't had on yamaha rx-a1080?
Rx Product Name: DENON-AVRHD
Manufacture Week: 0
Manufacture Year: 2018
Physical size(cm): 142 x 80
EDID Version: 1.3
EDID block number: 0x1
blk0 chksum: 0x75
Source Physical Address[a.b.c.d]: 4.5.0.0
YCC support 0x03, VIC (native 255):
ColorDeepSupport 0xb8 10/12/16/Y444 1/1/0/1
97 16 31 4 19 5 20 32 33 34 93 94 95 96 101 102 98 99 100 7 22 3 18 63 64 15 36 30 38 95 94 93 98 353 352 357 358
Audio {format, channel, freq, cce}
{1, 7, 0x7f, 0x07}
{7, 5, 0x1e, 0x00}
{2, 5, 0x07, 0x00}
{11, 7, 0x7e, 0x03}
{10, 7, 0x06, 0x03}
{12, 7, 0x7e, 0x03}
{9, 5, 0x02, 0x00}
{11, 7, 0x7e, 0x01}
Speaker Allocation: 0x5f
Vendor: 0xc03
MaxTMDSClock1 300 MHz
Vendor2: 0xc45dd8
MaxTMDSClock2 600 MHz
ColorMetry: 0xc3
SCDC: 1
RR_Cap: 0
LTE_340M_Scramble: 0
HDR DeepColor
checkvalue: 0x75910000
cur_VIC: 97
VIC: 97 3840x2160p60hz
Colour depth: 10-bit
Colourspace: YUV422
Colour range: limited
EOTF: HDR10
YCC colour range: limited
PLL clock: 0xc000027b, Vid clock div 0x000a339c
audio config: on
3D config: off
420,10bit
420,8bit
444,10bit
444,8bit
422,10bit
422,8bit
rgb,10bit
rgb,8bit
422
480p60hz
576p50hz
720p60hz
1080i60hz
1080p60hz
720p50hz
1080i50hz
1080p30hz
1080p50hz
1080p25hz
1080p24hz
2160p30hz
2160p25hz
2160p24hz
smpte24hz
smpte25hz
smpte30hz
smpte50hz
smpte60hz
smpte50hz420
smpte60hz420
2160p50hz
2160p60hz
2160p50hz420
2160p60hz420
2160p60hz
Supported EOTF:
Traditional SDR: 1
Traditional HDR: 0
SMPTE ST 2084: 1
Future EOTF: 1
Supported SMD type1: 1
Luminance Data
Max: 0
Avg: 0
Min: 0
current vinfo:
name: 2160p60hz
mode: 32
width: 3840
height: 2160
field_height: 2160
aspect_ratio_num: 16
aspect_ratio_den: 9
sync_duration_num: 2997
sync_duration_den: 50
screen_real_width: 1420
screen_real_height: 800
video_clk: 594000000
viu_color_fmt: 2
hdr info:
hdr_support 0x00000005
lumi_max 0
lumi_avg 0
lumi_min 0
sink_flag hdmi out
hdr master display info:
present_flag 0
features 0x0
primaries 0x0, 0x0
0x0, 0x0
0x0, 0x0
white_point 0x0, 0x0
luminance 0, 0