HI folks,
this isn't exactly a problem or a bug, but rather more on getting clarification on how OSMC/Kodi operates with respect to audio passthrough.
For starters, my current settings,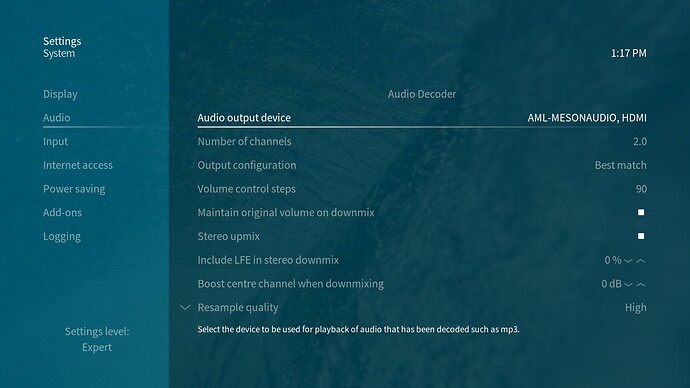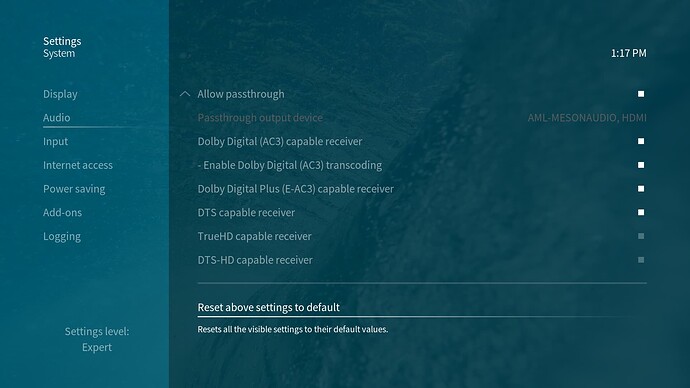 > cat /sys/class/amhdmitx/amhdmitx0/aud_cap
> 
> CodingType MaxChannels SamplingFreq SampleSize
> PCM, 2 ch, 32/44.1/48/88.2/96/176.4/192 kHz, 16/20/24 bit
> AC-3, 6 ch, 32/44.1/48 kHz, MaxBitRate 640kb/s

My current HDMI connection chain is,
Vero 4k+ – (HDMI) → Prism+ QE-Q65 TV – (HDMI ARC) → HTB490 Soundbar
This is necessary because the soundbar and Vero 4k+ has only 1 HDMI port, while the TV has 3. (Aux question: Will HDMI splitters help ?)
My question, and perhaps to gain a greater understanding of audio over HDMI, is if OSMC plays a 5.1 DD/DDP stream (with passthrough enabled), does all the 5.1 streams get sent to the TV (which accepts 6-channel AC3) even though the Number of Channels setting is 2.0 in Kodi ?
I've tried playing around with changing the Number of Channels to 2.1 and 5.1 but in many cases no sound emanates from the TV when this is selected. Am i stuck with 2.0 (with only two channels being sent), or does this setting not matter for passthru and Kodi will send through all 5.1 channels ?
Looking forward to someone helping out with my underestanding of these, and the best settings to get the most out of my setup.
Thanks in advance.