I have been using OSMC for a few years now. I stopped updating past OSMC.16.02-3 Running KODI 16 compiled on 2016-Feb-21, and there is a simple reason I am using this version.
When I allowed the system to update (I believe around April 2016) I found that I could no longer access video files located on my windows computer using SMB. My network Hard Drive worked fine, as did USB, but nothing else. I tried many things to make this work again and in the end it was far easier to downgrade the system so I could have normal functionality.
Around December 2017 I had some issues downloading artwork for Movies/TV shows. Yet, it was an easy fix as I just downloaded the updated addons to fix this issue.
Things were running smoothly until a few weeks ago when I got this error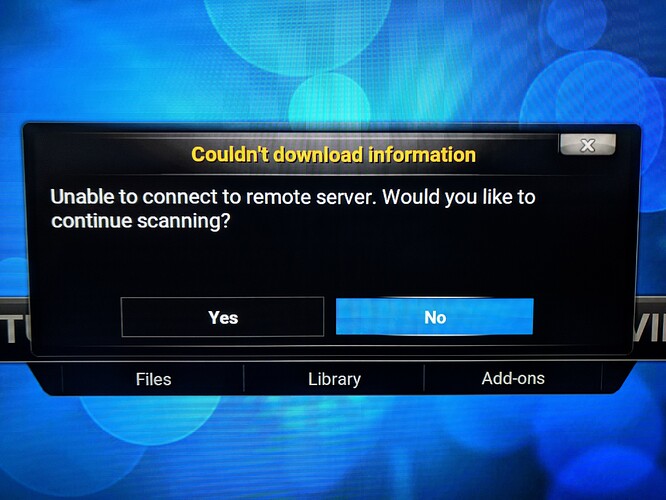 I have updated all the addons I can think of:
metadata.common.imdb.com-3.0.3
metadata.common.themoviedb.org-3.1.2
metadata.themoviedb.org-5.1.2
metadata.tvdb.com-3.0.1
metadata.tvshows.themoviedb.org-2.0.3
script.tag-generator-0.5.2
Yet it always comes up with the same error.
I know the normal response is to update to the latest OSMC and I am fine with that, as long as the SMB bugs have been fixed and I can stream from Windows 10 without issue. So to be safe I wanted to find out if there is a way to fix this without updating the system, only the files it needs to work.
thanks for the help.