My vero2 is giving me headaches again…
Despite of the kodi sad faces (which still happen from time to time) I'm struggling a while now with cpu usage.
Since I was throwing some applications at it (imo just using it as a kodi box would be a waste) I guess it was too much? Especially the openvpn client took a lot cpu I figured.
So i outsourced vpn to my new router, which works great. I expected vero2 to work better.
But now there are times where cpu usage is really high.
But not always!.. right now I started to stream music via spotifyconnect and it's all choppy. Inet connection is great, i checked.
If I look in kodi info the cpu consumption is also pretty high, spikes to 100%. In idle.
I entered top and saw kodi has highest consumption: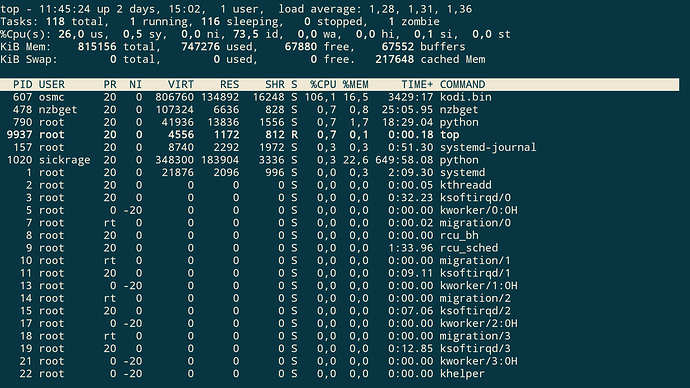 My questions: is this consumption of kodi in idle normal?
What can I do to better the situation? (Despite of stoping application/remove them)
Why does it vary so much? For example if I reboot now, it will be fine again a longer time…