So, LONG time Kodi user and dev here, but I've only been lurking on the OSMC forums until now. Back on December 13th, I finally bit the bullet, so to speak, and ordered a Vero 4K+.
If you're thinking that two weeks is a long time to wait on shipping, you're right… though it's nobody's fault but my own. I made a tiny mistake in the ordering process (which they caught), and ended up having to go back and forth with support until the 19th when we finally sorted out my mistake, and they shipped it out that day!
Being in the States, I had to deal with the inevitable customs headaches (which were a bit unnerving), but the process went something like this…
My Vero departed the OSMC facility on the 19th.
It arrived at Langley HWDC on the 20th, and departed the same day.
Arrived at ISC Chicago IL on the 22nd where it began the customs headaches. At this point, the OSMC shipping tracker drops off and I have to rely on the frustratingly inaccurate USPS shipping tracker.
Clearing customs took two days, and I got no updates until 1am on the 24th. At that time, it was listed as clearing the Champaign IL USPS Distribution Center.
At 11am it reached the Chicago IL Distribution Center.
No record was posted of when it left Chicago, but at 1pm on the 25th, it reached the Omaha NE Distribution Center.
Usually, when things hit Omaha I receive them withing 24 hours. In this case, I received it at 10am today (half an hour ago).
So… the shipping process wasn't as bad as it could have been! The only two headaches were the actual process of clearing customs (and waiting for my first stateside update), and for some reason sitting in Omaha for two days before being sent to my local post office (I live a few hours from Omaha).
On to the actual unboxing!
For starters, between the awesome guys at OSMC and the… less awesome guys at USPS, there's NO way this thing could have been damaged in transit. It arrived in a nesting-doll-esque set of boxes in boxes. For starters, the OSMC guys packaged it like pros. What they shipped it in was a moderately sized shipping box (about four times the size of the actual product packaging) packed with a TON of packing peanuts and "fragile" markings. Given it had to go trans-continental, that level of packaging is definitely appreciated. The guys at USPS apparently didn't think it was sufficient, and proceeded to add ANOTHER box with packaging… and then put the whole thing in a USPS shipping bag. OK, that's a bit overkill, but whatever.
After digging through the layers of boxes, I finally got the actual product out and my first thought was "wow! This thing is tiny!" I mean, I'd read the product stats, and a few unboxing posts, but nothing prepares you for how incredibly compact this thing really is. The below picture is next to a Roku remote for scale. Remember, that box has the actual device, remote, and various accessories in it.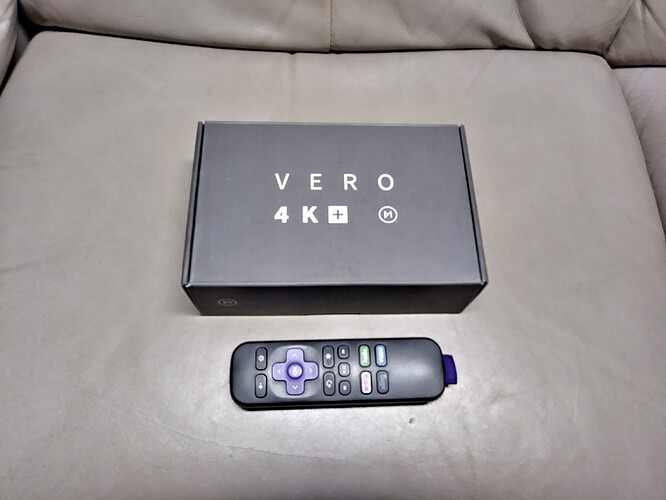 Upon opening the box, my next thought was that the level of professionalism and attention to detail in this thing is incredible. I don't know what I was expecting, but this doesn't look like just another cheap entertainment gadget. Over the years, I've bought three Rokus, two Amazon Fire TVs, an AppleTV, and built three custom HTPCs, and the only one that comes even remotely close to the attention to detail in product packaging is the AppleTV… but this still looks (and feels… and will perform) better.
Once unpacked, the box contains the device itself, which I still can't believe is so small, a region-specific power adapter, remote, remote dongle, an HDMI cable, and an infrared receiver extension kit. Not pictured but also included is mounting hardware for the device itself should you wish to mount it to a TV or whatever.
And now… on to the fun part! I'll update you with my thoughts on the actual setup and configuration shortly. For now, I've gotta get this thing plugged in!