I've been having an issue where some HDR-movies when played via my Vero 4K (latest October update) appear too dim, while the same file looks much better when played through the internal player on my LG C7.
At first I thought it's the missing MaxCLL/MaxFALL information Vero doesn't pass yet to the TV (which will probably be ignored by the TV anyway). But running this HDR10 contrast pattern: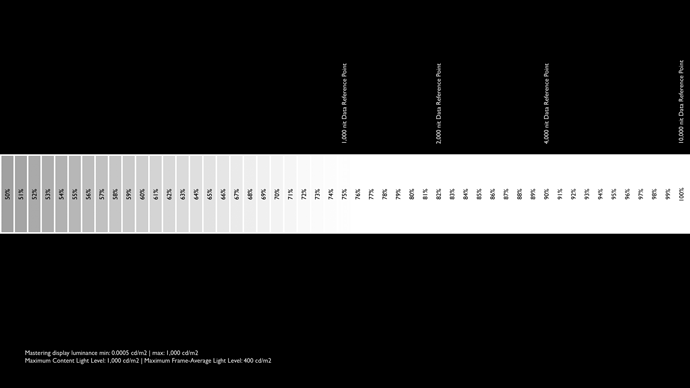 gives me weird results. The internal player flashes up until around 74%, which is correct since it's the 1000nit mark and it's a 1000nit mastered video. However, that same video played through the Vero 4k flashes to around 87/88%.
Read setup and test details

Exact same settings on both inputs. Vero outputs limited color range, TV's HDMI black level is set to "Low". For the majority of movies they look absolutely identical on the Vero and the internal player (even with somewhat similar HDR10 metadata from dim movies).

I can't figure out if HDR10-over-HDMI is just broken on the 2017 LG OLEDs or if my Vero is somehow misconfigured. I tried resetting presets, I did disconnect my AVR for a direct connection, I double and triple checked ALL the picture sub-settings are identical (especially Dynamic Contrast is Off aka Dynamic Tone Mapping disabled). My AVR correctly reports BT.2020 YCbCr, HDR, 10bit, 24Hz. I also tried the 422 option in the Vero settings. I haven't messed with the system files (like forcing 8bit colors etc.).
People that have an HDR TV (especially LG OLED 2017) connected to their Vero 4K(+):
can you do me a favor and download this test pattern (it's only 15mb) and play it through your Vero to see if it flashes past 75% and report back (including your TV's model)?
User results so far
Samsung QLED: 2 out of 2 tonemapping correctly
LG 2018+ OLEDs: 2/3
LG 2017 OLEDs: 0/5
Panasonic: 1/2