Can anyone help to get me past the next step in TVHeadEnd? I've got OSMC running fine and was planning to use TVHeadEnd as the PVR to extend my movie library. Initially I have installed TVHeadEnd on my laptop (Linux Mint 17.2) but will move the app to OSMC running on my RP3. The laptop hosting TVHeadEnd also has HDHomeRun Config Gui installed, which scans and find channels which then run in VLC.
TVHeadEnd 4.0.9-13 runs fine on my laptop and finds the HDHomeRun tuner on my network (see picture). Based in the UK, it is DVB-T.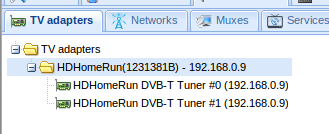 However, I cannot find a way to get TVHeadEnd past the point of recognising the existence of the tuner. I have selected the network of my local freeview TV (Wrekin).

It seems to find a set of muxes but I can't populate the next tab named services which remains stubbornly blank. Am I missing a step? Is driver required? Any pointing in the right direction is greatly appreciated.