Hey y'all, i followed the how to do a support post so i'm hoping this is a solveable problem.
I'm trying to add an additional universal remote so that i can do all the home theater things using just one. This new ir remote learned my tv and soundsystem codes really easily, but the osmc remote uses fr (i think?). So it can't learn ir codes from the osmc remote.
I have a vero 4k+, a tcl/roku tv, and a denon avr sound system.
I found these semi-helpful other resources which got me to where i am at right now;
So. The setup. I borrowed some ir codes from a spare vcr remote and mapped those to the directional control and other side buttons i wanted to use in my universal remote. Then, i ran irrecord to try and record those codes. (I still have no plan other than trial and error to figure out which lirc code name corresponds with what button on the vero 4k remote, so if you have a list or a map that would be awesome).
However, irrecord has been giving me a segmentation fault error. First, it does successfully check for (and fail to find) any ir interference. Then it also manages to accept me pressing a random ir button. However, every time i try to record a named code (btn_left was my go to) the program tells me 'segmentation fault' and then crashes. I have attached a screenshot of it in case the logs aren't good enough.
My log pastebin is here; https://paste.osmc.tv/hilorisine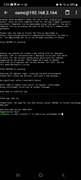 The only other thread that mentions an irrecord segfault says to downgrade or wait for an update to the software as a fix, which alright, but is there an alternative for learning the directional buttons on an ir remote? Surely it's not that hard to do on a media center device, and im just looking in the wrong spot.