After update to 11-1, I get Skin Helper Service Error on start, what can I do about it? Thanks!
To get a better understanding of the problem you are experiencing we need more information from you. The best way to get this information is for you to upload logs that demonstrate your problem. You can learn more about how to submit a useful support request here.
Depending on the used skin you have to set the settings-level to standard or higher, in summary:
enable debug logging at settings->system->logging

reboot the OSMC device

reproduce the issue

upload the log set either using the Log Uploader method within the My OSMC menu in the GUI or the ssh method invoking command grab-logs -A

publish the provided URL from the log set upload, here
Thanks for your understanding. We hope that we can help you get up and running again shortly.
OSMC skin screenshot: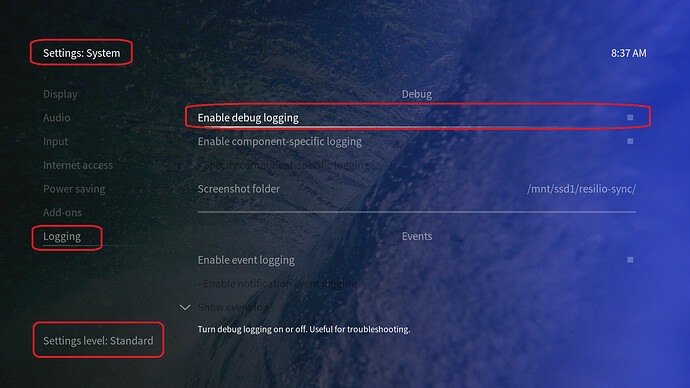 http://paste.osmc.tv/zagagodumi
I can't fin anything related to the skin helper service error in the log, but if you can read something from it - thanks!

UPDATE: I just reinstalled OSMC, set up everything from scratch, same thing on startup!
This is the log after clean install of OSMC:
Also, trakt.tv is not synchronising my tv shows and movies. Tried all that I could… reinstalled the trakt.tv addon, checked dependencies…
There was a Python module update that Trakt (and TVDB) uses that was recently updated that seems to be causing the error messages in the OSMC skin. I can reproduce that. However my trakt seems to still be updating correctly. If you don't actually need them you can manually delete the problem add-ons via ssh with…
rm -r ~/.kodi/addons/script.skin.helper.service & rm -r ~/.kodi/addons/script.skin.helper.backgrounds
Thanks for the "Python module update" info.
My trakt add-on can still scrobble and add new watched items to trakt.tv service, but only the sync is not working, so… in KODI, I can't get my stuff that I watched before today to show as watched. It's a strange problem. All is fine on trakt.tv web…
After looking a bit closer I found that Trakt was syncing watched status but not collected status on my machine. The issue seems to be caused by the Arrow add-on's update to 0.12.1. I reverted back to previous 0.10.0 and Trakt went back to working fully and those add-ons for the OSMC skin no longer throw an error. Anything more i'll leave up to @Chillbo and the people who maintain the Trakt add-on to deal with.
UPDATE: Did a bit more digging and it looks like a fix should come in the day or so that will update Arrow to 0.15.5