I'm trying to use a raspberry pi as a frontend to my MythTV backend. I'm new to OSMC, but not new to Linux.
I installed the MythTV Add-on, configured it with the address of my backend, and enabled it but I couldn't find any way to use the add-on.
Eventually, I installed the Demo PVR add-on, rebooted, and got the TV and Radio items in the top-level menu, I could enter them and find the demo items. at this point, both the MythTV and Demo PVRs were enabled. I disabled the Demo PVR, the TV and Radio menus disappeared. I disabled the MythTV PVR and got a "searching for PVRs" pop-up, then a warning that there were no PVRs. I re-enabled the MythTV PVR and rebooted, still no TV and Radio menus.
OSMC seems to believe MythTV PVR is providing PVR services, but the menu items are not there.
I noticed that the Run item in the MythTV PVR information page was greyed out, screenshot attached.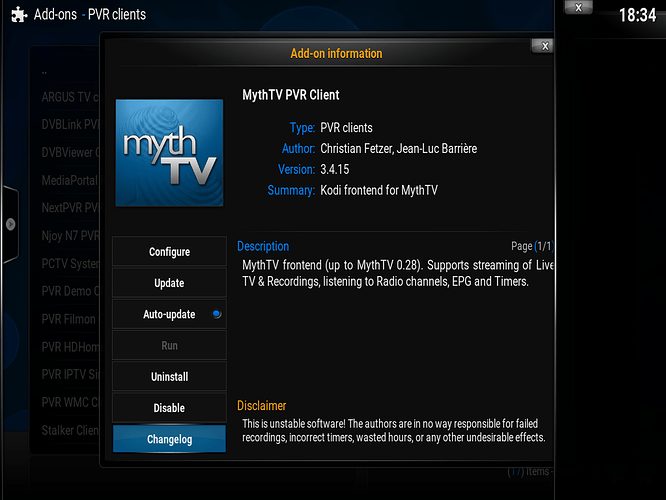 Logfile from when I booted, went to the MythTV PVR configuration page, disabled it, then enabled it:
http://paste.osmc.io/niqayinevu
What have I done wrong? Thanks in advance.