A few people here have been tinkering with launching Parsec or Moonlight, etc out of OSMC/Kodi on their Raspberry Pi for a while now. Well about five months ago I started putting together a few shell scripts that I could launch through OSMC's editable menus, but it was still a very manual process to update the scripts if my server number changed. Well that all changes now. This week I put in a ton of hours to learn some Python and how to produce my first Kodi addon.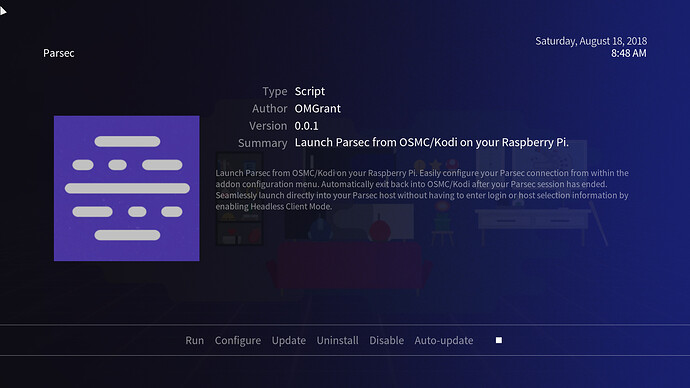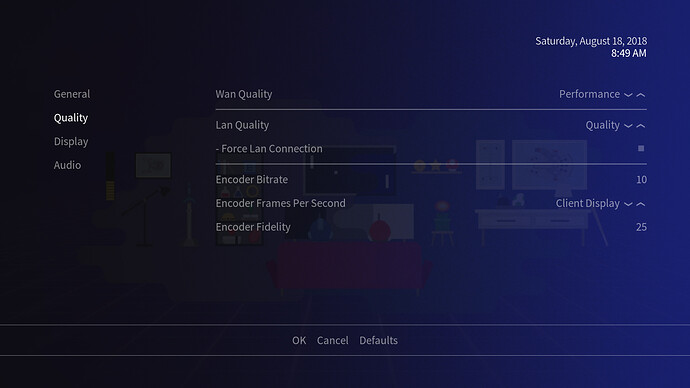 ---
OSMC/Kodi Addon: Parsec Launcher
Parsec is a game streaming application used to play video games remotely across a conntected network from a system in the cloud to your home computer. OSMC (short for Open Source Media Center) is a Linux distribution based on Debian that brings Kodi to a variety of devices. This addon brings the two together to create a seamless experience.
Features
Launch Parsec from OSMC/Kodi on your Raspberry Pi.
Easily configure your Parsec connection from within the addon configuration menu.
Automatically exit back into OSMC/Kodi after your Parsec session has ended.
Seamlessly launch directly into your Parsec host without having to enter login or host selection information by enabling Headless Client Mode.
---
You can find information and the source code at this link: https://github.com/OMGrant/script.parsec
and a direct download link to the addon at this link: http://dev.grantgarrison.com/
Look forward to get some testers and some feedback!