Hi all,
I'm running two Vero 4K units, one on my Panasonic OLED (TX-55FZ952) and one on my projector (Epson EH-TW9300), and I am seeing an occasional "hiccup" in the output resolution from both.
These are separate setups in different rooms (hence the use of two Vero units) and are totally independent from each other, with the exception of a shared MySQL database which is hosted on my NAS.
When a video finishes and Kodi returns to the library screen, the resolution drops from 1920x1080p/23.98 to 720x740p/59.94. For example, tonight I watched an episode of 24 on my projector which displayed correctly at 1080p, but as Kodi dropped back to the episode list, the interface reverted to 480p. If I then play the next episode, it is clearly displayed at the lower resolution.
If I check the settings in Kodi, it still states the output is 1920x1080p/23.98 but the projector reports it is receiving a 720x480p/59.94 signal. I remember this happening with Kodi version 18+, but not with version 17.
I have taken a photo of this and can upload any log files or output from the terminal.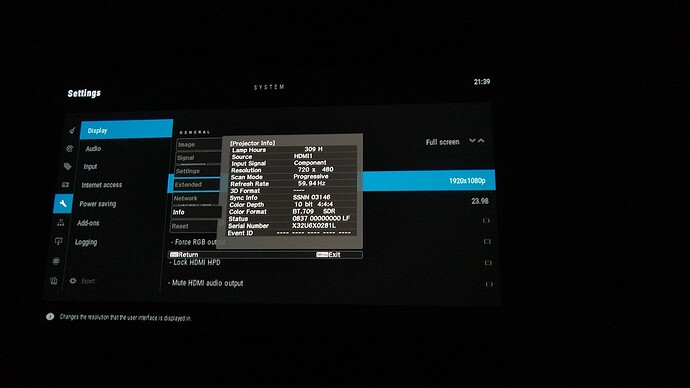 So far the two workarounds I have used as a temporary solution are:
Reboot Vero 4K
Switch to any other resolution in settings, then switch back to 1080p/23.98
One Vero 4K is connected directly to the OLED TV. The other is connected to my projector via my Denon AVR-X4200W receiver but I don't think that is the cause of the issue as I have it set to simply pass through the video signal, i.e. it doesn't do any scaling.
This has worked flawlessly previously, and does work 99% of the time now. I just see the occasional drop to lower resolution since (I think) Kodi 18.
Any ideas on what could be causing this, and a possible fix? I'm familiar with SSH so happy to help test.