I have recently joined up to this forum after struggling to set up OpenVPN on my Vero 4k box.
I have been trawling through numerous forum posts and tutorials over the last few days, including the Brian Hornsby guide, but cannot seem to get my Vero box set up correctly to connect to my VPN, I am using Private Internet Access.
When I run OpenVPN, after selecting a connection it just constantly says "RECONNECTING" and system Info shows my usual IP address.
I am not too technically minded, and was unfamiliar with using programs like Putty and Filezilla beforehand. I believe I have followed the Brian Hornsby guide correctly, but I obviously must be doing something wrong, and would be extremely grateful for any help.
error(s) I get during test using Putty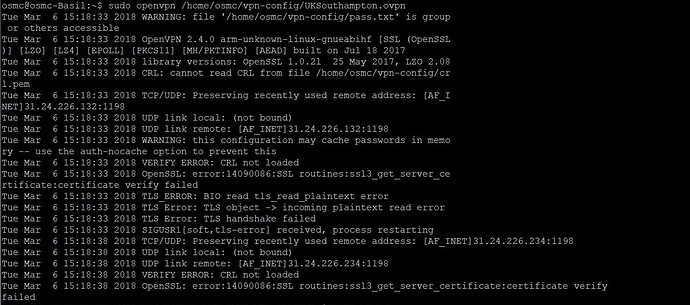 My .ovpn file
OpenVPN settings - /usr/sbin/openvpn, Management IP 127.0.0.1, Port 1337
In "script", I have "Use sudo when running OpenVPM" checked and "password" unchecked