Hello everyone!
I've recently installed OSMC, Transmission, Samba, SickChill, CouchPotato and NextCloud on my Raspberry Pi 3 B with OSMC SD card and 2TB USB WD HDD.
I'm trying to set up users and permissions correctly so that all these applications work properly, but I keep experiencing problems and I would appreciate another pair of eyes since I'm definitely doing something wrong.
I've created a user group htmc and added osmc, www-data, sickchill and couchpotato users in it.
SickChill:
[Unit]
Description=SickChill Daemon

[Service]
User=sickchill
Group=htmc

Type=forking
GuessMainPID=no
ExecStart=/opt/sickchill/SickBeard.py -q --daemon --nolaunch --datadir=/opt/sickchill

[Install]
WantedBy=multi-user.target
CouchPotato:
[Unit]
Description=CouchPotato application instance
After=network-online.target

[Service]
ExecStart=/opt/CouchPotatoServer/CouchPotato.py --daemon
GuessMainPID=no
Type=forking
User=couchpotato
Group=htmc
KillMode=process

[Install]
WantedBy=multi-user.target
Transmission:
[Unit]
Description=Transmission BitTorrent Daemon
After=udisks-glue.service

[Service]
User=osmc
Group=htmc
Type=notify
ExecStartPre=/bin/sleep 10
ExecStart=/usr/bin/transmission-daemon -f --log-error --allowed ...

[Install]
WantedBy=multi-user.target
Here is the directory structure on the USB HDD: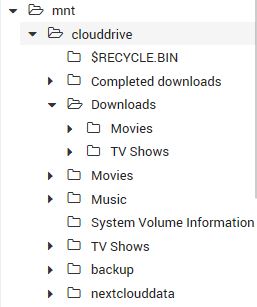 And here are the ownership and permissions:
/mnt (root:root 0755)
/clouddrive (www-data:htmc 0770)
/Movies (osmc:htmc 0775)
/TV Shows (osmc:htmc 0775)
/Downloads (osmc:htmc 0775) and the same for the Movies and TV Shows directories inside
Basically, CouchPotato and SickChill initiate downloads in the /clouddrive/Downloads/Movies and TV Shows directories. After Transmission finishes downloading, both programs should create a symbolic link to the /clouddrive/Movies and TV shows directories which are Kodi libraries.
The first problem is that Transmission is creating directories in /clouddrive/Downloads with 0755 permissions thus preventing the sym link creation.
I've tried setting umask parameter in /home/osmc/.config/transmission-deamon/settings.json to 2, but it keeps getting back to 18 (18 decimal is 022 octal, the default umask setting that will lead to 0755 permission).
The second problem shows if I try to play a movie or a tv show. Kodi gives me a message "The file is no longer available. Would you like to remove it from the library?"
I just don't get it. If all the permissions are 0775 and the group ownership is always htmc that contains all other relevant users why is this not working?