I had some stuttering on network playback and saw that it would be a good idea to mount nfs shares in /etc/fstab.
Playback works great but my Pi takes a long time to shut down now.
It gives me this message: "A stop job is running for /mnt/Macbook (1s / 1min 30s)"
I have tried changing all the parameters in the fstab entry but I cannot get it to stop,
This is my fstab:
192.168.1.203:/Users/emil/Movies/TV /mnt/Macbook nfs noauto,x-systemd.automount
Here is my log http://paste.osmc.io/xosaqajufi
This is the shutdown step with /boot/cmdline.txt set to noquiet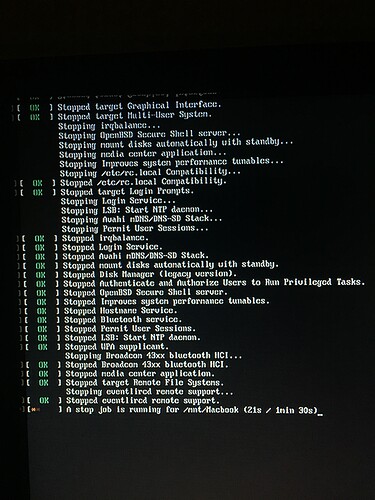 Any help is appreciated.
Update:
For anyone with the same problem. I made a workaround, it's not great but it works.
I made a shortcut on the home screen I called Unmount that runs a shell script that unmount my NFS share.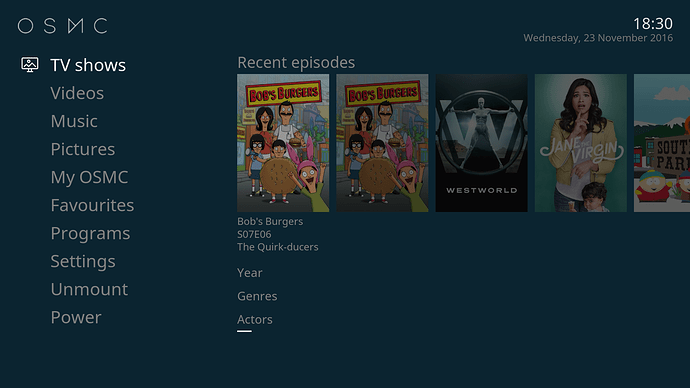 I made it using the 'Customise Home Menu' option under Appearance - Skin - Settings.
I added a menu item and chose a 'Custom Item' under 'Change Action'. I call the script via System.Exec(/path-to-your-script/)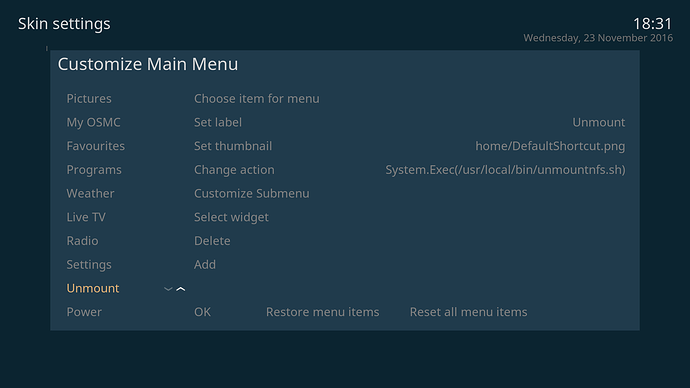 I created my script in /usr/local/bin.
#!/bin/sh
sudo umount /mnt/TV
exit 0

Remember to chmod +x your script.
Hope this can help somebody.