Situation.
Hdmi 1.4 to smart tv.
And a toslink to a reciever dts acr
Type yamaha rx-v440 rds
Dts Es, dd digital, pcm, capable.
I started a mkv container acr3 5.1 yatse audio info shows dolby digital h.264.
Audio setting default HDMI and spdiff. Aml-mesonaudio:hdmi, s/pdif&analogue
Watching i noticed i lost the speach track. Englisch and other languages. When i turned on my reciever.
So i enabled some passthroughs for spdiffs.
Passthrough audio device aml-mesonaudio,hdmi blabla.
Enabled ac3 suitable device
Don't know if E-ac3 can be set
DTS suitable enabled.
TrueHD not i think to new for my oldy.
And all the tracks where there again.
Means passthrough works.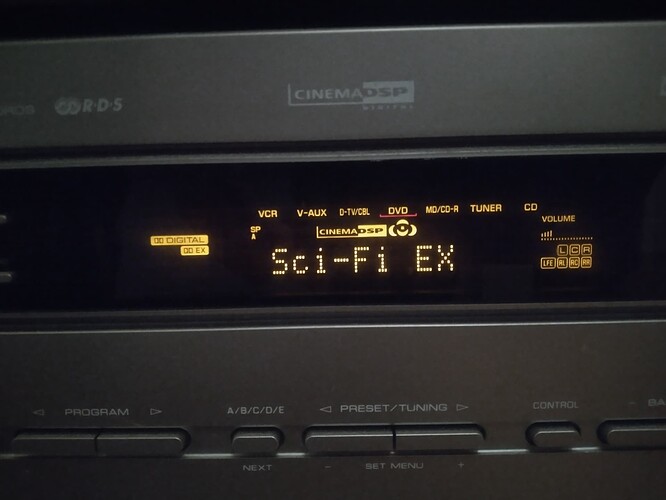 Sofar so good.
One tiny issue.
My HDMI audio on the TV is gone(that good). Same as my volume remote of the vero remote and my yatse.(thats bad)
Does this mean that i have to switch off for normal remote and tv audio and the passthrough on when i encounter a audio decoding problem when i turn on the reciever?.
I understand "pasthrough" concept.
That's plain sent digital audio info through optical toslink undecoded or touched.
So no more HDMI output. But the audio level cant be controlled by vero remote anymore eihter.
(checked by shutting down reciever to see if hdmi picked up audio al all.)
Nope. Restart movie didn't provoke hdmi audio eihter.
So my old cubox did support remote control of volume in spdiff output in kodi.
(now it frozen at 94%)
(before i set reciever at 40 and controlled sound bij phone remote yatse.)
Which is great in music playing without needing tv or remote of the reciever…
Which i didn't test now, mp3 stereo(music) isn't dts or so so that should be handled as self coded and thus volume control by yatse or vero remote.
So question: Am i right in my conclusions or do i miss a clue in settings?
(i am as thorough as possible in providing information.)
Is this on purpose or a "flaw" or a "error"?
Thanks for any info.
Edit tested music and then remote works by kodi volume.
Mp3 2.0 works on mpeg4
DD 2.0 not.
IT states a fixed volume presentage. 84% or 93% what ever i set volume in kodi béfore i start the movie. I tested 47% (lowering from 93%) and started movie again it freezes on that level.
So it seems to be a "flaw/error" in the userinterface for controling sound.