Hi,
Im using NFS shares mounted via FSTAB. Most of the time its working perfectly but sometimes some shares are gone, but not all of them?! They are all from the same NAS and are configured identically.
Restarting ths NAS, VERO or the switch doesn't solve the problem it just suddenly start working again.
What do you think is wrong with my setup? (I know it might not be the vero but i need some help find the source)
I have followed these guides.
https://kodi.wiki/view/NFS#Synology_DSM_5.1
The permissions on the shares seems a bit strange…

shares from the NAS…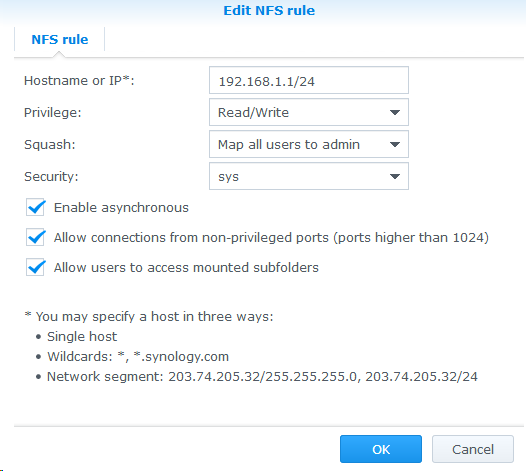 FSTAB
osmc@osmc:/mnt$ cat /etc/fstab
# rootfs is not mounted in fstab as we do it via initramfs. Uncomment for remount (slower boot)
#/dev/vero-nand/root  /    ext4      defaults,noatime    0   0
192.168.1.51:/volume1/Serier /mnt/Serier         nfs     noauto,x-systemd.automount  0  0
192.168.1.51:/volume1/Barnens /mnt/Barnens         nfs     noauto,x-systemd.automount  0  0
192.168.1.51:/volume1/Film /mnt/Film         nfs     noauto,x-systemd.automount  0  0
192.168.1.51:/volume1/Barnens\040Serier /mnt/Barnens\040Serier         nfs     noauto,x-systemd.automount  0  0