We need to see logs on that version where you experience a problem
Sorry about that. Here they are:
Also I pressed Yes on the question to update my OSMC and now I'm in a reboot loop with a sad face. Will look in to this tomorrow.
I hope the will be some kind of easy fix and that I don't have to reinstall everything just because if this.
/Söder
Did you update your repos to the Buster version? See the first post on this thread. It should solve your problem.
Well your TV doesn't report any 4k 60HZ modes. If you had those before maybe it is a AVR in between giving issues?
720p60hz
1080p24hz
1080p30hz
1080i60hz
1080p60hz
2160p30hz*
2160p24hz
2160p30hz*
smpte24hz
smpte30hz

Also recommend people with 4K TV's set their user interface (UI) to 1080p. Kodi's UI is not optimized for 4K yet and this can put unnecessary demands on your device and can lead to a suboptimal picture quality, as well as potentially cause other issues.
The settings we recommend are as follows…
Settings>System>Display>Resolution> 1920x1080p
Settings>System>Display>Whitelist> (empty) *
Settings>Player>Videos>Adjust display refresh rate> On start/stop
Some televisions may also need, or benefit from, the following being set…
System>Display>Force 4:2:2 colour subsampling> (enable)
With the above settings your UI will be output in Full HD and your 4K content will be output in 4K. *Information regarding the whitelist can be found here. If you have any doubt, feel free to upload some logs so we can verify that your settings are indeed correct.
Thanks. Yes, I updated from the update menu in OSMC.
Now I added that 49 line, and doing an update from terminal. I hope this will fix it.
EDIT: No more sad face and boot loops. Great. Thanks.
/Söder
I'm shure i received an update from 17.10., and 3D MVC works still fine. But i can't found anything in the changelog?
That would be the release of Debian Buster which is covered on our blog
Sam
Ah, OK, means 3D is now in the main stage because it works for me? Do we now have to alter the /etc/apt/sources.list back again?
No – you still need to stay on the 4.9 repository for functioning 3D.
I see the problem. We'll get it fixed. Meanwhile, a workaround is to make a file disp_cap with the following contents:
720p60hz
1080p24hz
1080p30hz
1080i60hz
1080p60hz
2160p24hz
2160p30hz*
2160p60hz
smpte24hz
smpte30hz
smpte60hz

and put it in /home/osmc/.kodi/userdata/ ie go nano /home/osmc/.kodi/userdata/disp_cap and paste the text above in.
Re-boot.
For the record, what's the make and model of your TV? Sharp LC58Q73?
And forcing 4:2:2 may be a bad idea for 4k60Hz. Can you let me know if it works with that setting and the disp_cap file in place?
My Vero 4K+ Wont connect to my wireless 5Ghz after testing the Linux 4.9 kernel and improved video stack is applied in sources.list.
Debug logs is here.
Edit: I started the Vero up with the 5Ghz, and switched to 2.4Ghz to upload logs, so both scenarios is in the log.
I made a fresh install, and updated the Vero to the latest October update, just to be sure that nothing has gone wrong in the update, and no problem, can connect to my 5Ghz Wifi, but as soon as i applied 4.9 kernel and improved video stack, i cannot connect.
That's not completely true, it seems that i can connect, but it gives me an obscure IP
I normaly use DHCP, as i have set it to fixed IP in my Router, but for some reason, it changes to manual, and nothing happens when i click on "Configure Network using DHCP" and it does not help to put the correct IP etc. in manually either.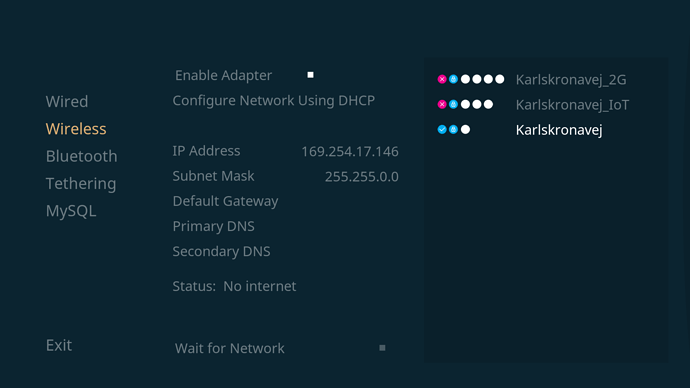 But as soon as i connect to 2.4Ghz, no problem.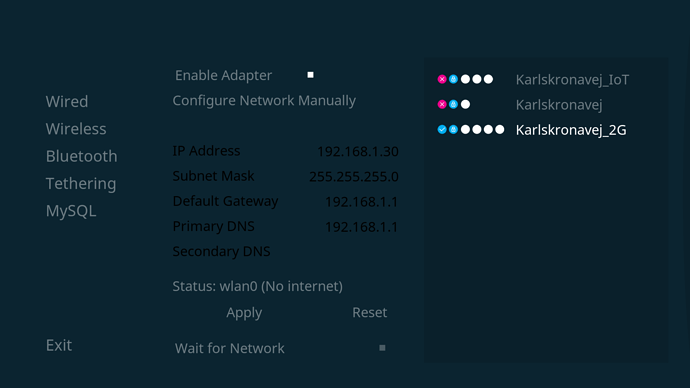 Let me know if you need more info.
Thank you.
Looks like a weak signal. How many white dots did you get with 3.14?
Hi @thansen_dk,
you can try to change channel in your router, I mean try change channel of your 5GHz WIFI and maybe width of channel to 40MHz. Width of channel change just if you cannot still connect with 80MHz width channel.
Thank you for the suggestion, i will try that tomorrow, as i just reinstalled because i need to use the Vero tonight, and need it to be on 5Ghz.
But changing these settings is not the solution, as it is optimised to my needs and free channels in my area, and it is working fine with the latest update (October) But for troubleshooting it makes sense

It is not a weak signal, that's the strange thing, i have just reinstalled to the latest October update, and the signal strength is max (4 white dots)
I mean it's showing as weak. It could be lying

This is how it looks on a fresh installed 3.14. And the AP is just a couple of meters away. WIFI speed has never been an issue for me before.
And even a weak signal should not give me an IP address and subnet like it does.
Something is not right here.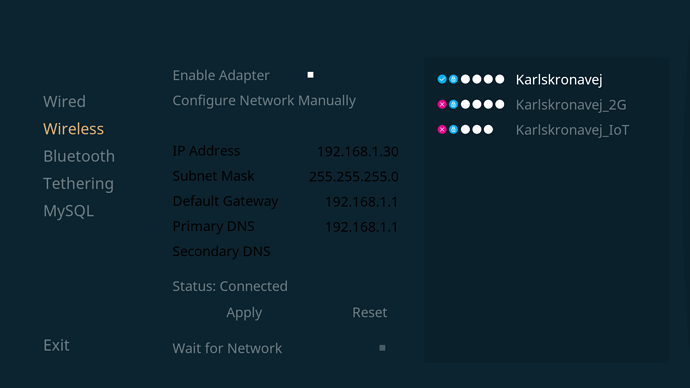 Here is the iperf result on 3.14
osmc@osmcstue:~$ iperf3 -c 192.168.1.137
Connecting to host 192.168.1.137, port 5201
[ 4] local 192.168.1.30 port 35586 connected to 192.168.1.137 port 5201
[ ID] Interval Transfer Bandwidth Retr Cwnd
[ 4] 0.00-1.00 sec 27.3 MBytes 229 Mbits/sec 0 214 KBytes
[ 4] 1.00-2.01 sec 29.3 MBytes 245 Mbits/sec 0 214 KBytes
[ 4] 2.01-3.00 sec 29.0 MBytes 244 Mbits/sec 0 214 KBytes
[ 4] 3.00-4.00 sec 29.1 MBytes 245 Mbits/sec 0 214 KBytes
[ 4] 4.00-5.00 sec 29.0 MBytes 244 Mbits/sec 0 214 KBytes
[ 4] 5.00-6.00 sec 29.0 MBytes 243 Mbits/sec 0 214 KBytes
[ 4] 6.00-7.00 sec 28.3 MBytes 237 Mbits/sec 0 214 KBytes
[ 4] 7.00-8.00 sec 29.4 MBytes 246 Mbits/sec 0 214 KBytes
[ 4] 8.00-9.00 sec 29.2 MBytes 245 Mbits/sec 0 214 KBytes
[ 4] 9.00-10.00 sec 29.4 MBytes 246 Mbits/sec 0 214 KBytes

---

[ ID] Interval Transfer Bandwidth Retr
[ 4] 0.00-10.00 sec 289 MBytes 242 Mbits/sec 0 sender
[ 4] 0.00-10.00 sec 289 MBytes 242 Mbits/sec receiver

iperf Done.
osmc@osmcstue:~$ iperf3 -R -c 192.168.1.137
Connecting to host 192.168.1.137, port 5201
Reverse mode, remote host 192.168.1.137 is sending
[ 4] local 192.168.1.30 port 35588 connected to 192.168.1.137 port 5201
[ ID] Interval Transfer Bandwidth
[ 4] 0.00-1.00 sec 23.7 MBytes 199 Mbits/sec
[ 4] 1.00-2.00 sec 24.5 MBytes 205 Mbits/sec
[ 4] 2.00-3.00 sec 24.0 MBytes 201 Mbits/sec
[ 4] 3.00-4.00 sec 24.3 MBytes 203 Mbits/sec
[ 4] 4.00-5.00 sec 23.9 MBytes 200 Mbits/sec
[ 4] 5.00-6.00 sec 24.0 MBytes 202 Mbits/sec
[ 4] 6.00-7.00 sec 24.1 MBytes 202 Mbits/sec
[ 4] 7.00-8.00 sec 24.0 MBytes 201 Mbits/sec
[ 4] 8.00-9.00 sec 24.1 MBytes 202 Mbits/sec
[ 4] 9.00-10.00 sec 24.0 MBytes 201 Mbits/sec

---

[ ID] Interval Transfer Bandwidth
[ 4] 0.00-10.00 sec 241 MBytes 202 Mbits/sec sender
[ 4] 0.00-10.00 sec 241 MBytes 202 Mbits/sec receiver

iperf Done.
osmc@osmcstue:~$