Hi!
First of all, I registered specially to communicate about some of the changes I'd like to make in the skin. Don't want to do anything you lot don't want or maybe some of you got better ideas!
Advanced user of Kodi and got a really nice setup (in the first place specifically for PVR do I don't have to rent a box I don't like).
Anyways these are the things I want to propose;
I'd like to explore if the logo can be a tad bigger, I'm using rectangular logos (800x450px) rather than square ones as those work way better in my opinion. So that's my reason.

Here I'd like to add the program genre. Either in front of the time of in between as is usual with other skins. I'd like to do the latter, but many US users don't have access to EPG data while in the EU this is quite normal. For me it's 10 days worth of it. That's why the first option might be the preferred one; if you don't have access to EPG data you don't see anything different, else you get it in front. Up to debate I think.

A bit more space to the left, I get good quality and often long EPG data and also I think the space in between the logo/time/genre is quite big. Maybe add an option as how fast this text is scrolling skin wide? common skin option.

Case of OCD; I don't know why this isn't lined out in the first place.
5A/B/C. Don't like this at all. In fact there's more stuff I want to propose but nvm that for now. First I think the pace is too fast. Maybe add a setting for that too? maybe 6~7 seconds works better. Also is 3 parts really needed?
My proposition;
Switching between 2 parts
1;
Channel name (channel number)
Programme name (% duration)
More in check with how it is for music/video
2;
Time
Date
(make this a skin wide thing too, maybe? )
Also I don't know why one wants to see the channel logo here but w/e. I'd rather see the weather icon with temp here. Not even trying to attempt this one. But maybe you like it better too and never thought of it that way, so there you go.
I'm not an advanced skinner, but I do know what I like and how it should work. Also plan to keep the minimalistic layout in check; quite fond of that. So don't expect me to propose anything wild. For the first try (well actually 2nd try) I've chosen some stuff I think I can manage. Want to attempt this myself in weekends so don't don't this will be done anytime soon even though it might be quite simple.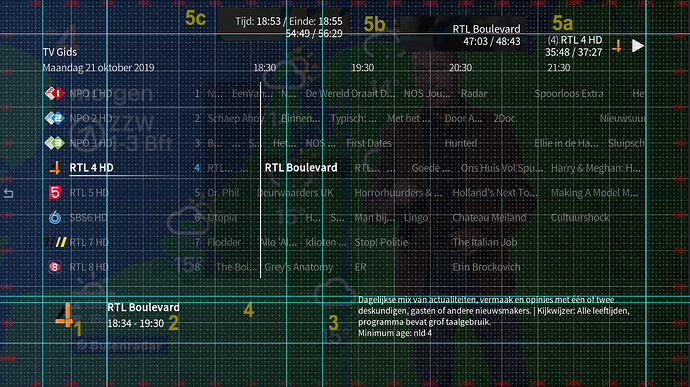 Also; @Chillbo couldn't figure out how to send a message here. Don't really like forums, rather IRC or in worst case discord, but w/e.