Hi
I'm using the TVHE client to access my TVHE server over the internet. This requires around 8-12Mbps on average.
My internet connection is usually 15-20Mbps however now everyone using the internet in lockdown my TVHE Client is freezing temporarily when other members of the family use the internet (usually when i trying to watch the news!).
I thought the solution would be to increase video buffer size.
I've followed instructions here - https://kodi.wiki/view/HOW-TO%3AModify_the_video_cache
I've edited the advancedsettings.xml in ~/.kodi/userdata/ and playing with various options (always restarting mediacenter after changes), however none of the options i've tried appear to either reduce freezing, or even use more RAM (as viewed by Top command) as i would expect.
Am i missing a trick? My advancedsetting.xml are pasted below: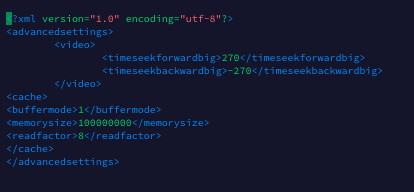 Screen Shot 2020-03-28 at 7.24.44 PM
I've tried changing buffer modes, memsize, readfactor to various settings.
Cheers, Geoff.