vero 4k+ and osmc DVB-T2/DVB-C TV dongle
Hello everybody,
back in february i bought, along with a Vero 4K+, the osmc.tv dvb-t2 tv dongle but I managed to install it only recently.
Now I am trying to figure out how to configure it properly. I have experience on linux but I never had a tv adapter before so I read a few posts on this (and other) forums and then I began to configure.
Here is what I did:
install the usb dongle and connected the tv cable.

install TVHeadend Server via the My OSMC Addon → App Store

install the Tvheadend HTSP Client with these connection Settings (I left the default settings in the other sections):

Tvheadend hostname or ip address: 127.0.0.1
HTTP Port: 9981
HTSP Port: 9982
Username: osmc
Password: osmc
I verified that the Tvheadend was running and bound to the proper ip:
root@osmc:~# ps -fe| grep -i tvheadend
osmc      1132     1  0 21:37 ?        00:00:03 /usr/bin/tvheadend -f -p /run/tvheadend.pid -C -u osmc -g video

root@osmc:~# lsof -itcp:9981
COMMAND    PID USER   FD   TYPE DEVICE SIZE/OFF NODE NAME
tvheadend 1132 osmc    6u  IPv4  12534      0t0  TCP *:9981 (LISTEN)

then I connected to http://osmcservername:9981, logged on as osmc/osmc and I went through the wizard.
I let it search for channels overnight but it didn't find any.
As you can see in the attached screenshot, I can see only one dvb adapter (realtek) using the web interface.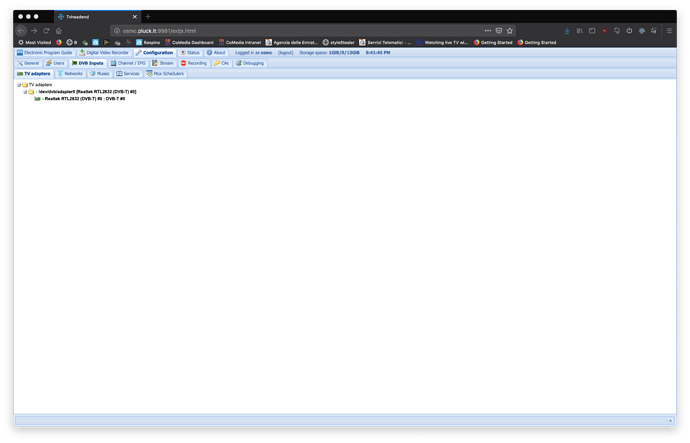 On the other hand I have a different result if I use w_scan from the command line with tvheadend daemon stopped (I can see also the Sony one):
root@osmc:~# systemctl stop tvheadend.service
root@osmc:~# w_scan -c IT
w_scan -c IT
w_scan version 20161022 (compiled for DVB API 5.10)
using settings for ITALY
DVB aerial
DVB-T Europe
scan type TERRESTRIAL, channellist 4
output format vdr-2.0
WARNING: could not guess your codepage. Falling back to 'UTF-8'
output charset 'UTF-8', use -C <charset> to override
Info: using DVB adapter auto detection.
	/dev/dvb/adapter0/frontend0 -> TERRESTRIAL "Realtek RTL2832 (DVB-T)": good :-)
	/dev/dvb/adapter0/frontend1 -> TERRESTRIAL "Sony CXD2837ER DVB-T/T2/C demodulator": very good :-))

Using TERRESTRIAL frontend (adapter /dev/dvb/adapter0/frontend1)
-_-_-_-_ Getting frontend capabilities-_-_-_-_
Using DVB API 5.10
frontend 'Sony CXD2837ER DVB-T/T2/C demodulator' supports
DVB-T2
INVERSION_AUTO
QAM_AUTO
TRANSMISSION_MODE_AUTO
GUARD_INTERVAL_AUTO
HIERARCHY_AUTO
FEC_AUTO
BANDWIDTH_AUTO not supported, trying 6/7/8 MHz.
FREQ (42.00MHz ... 1002.00MHz)
-_-_-_-_-_-_-_-_-_-_-_-_-_-_-_-_-_-_-_-_-_-_-_
Scanning DVB-T...
Scanning 8MHz frequencies...

What I am missing?
Can you give me some pointers?
Thanks a lot,
Michele
P.S. please forgive my bad english.