Thanks but i don't have a connected keyboard and I'm not familiar at all with SSH.
Unfortunately that is in the current status your device is in the only option to ensure that you keep your settings/configuration.
Alternatively if you don't mind loosing your configuration you could do a reinstall
An error has occured while writing the image. I can't even re)install a past version. I'm tired… and where is the log file ? Why things cannot be easy ?
What should be the format of the USB key ?
Format will be automatically overwritten by the installer. should be FAT after the USB is written.
Means if you plug in Windows should see some files. maybe can post the content of the USB stick here to validate.
Thanks Fzinken. I'm on Mac. Once it want to copy the image on they USB key, it does not work. It says an error occured and I should look at the logfile but where is the logfile ?
As far as I know the installer on Mac is not working but maybe @sam_nazarko can comment.
The macOS installer should be updated later today with any luck.
If you have a Windows PC, that'll probably be a quicker route to get up and running
It's booting up properly now, but I'm having another problem after upgrading to kodi 19. There's no audio in the menus or during playback. The audio is normally output over HDMI to an A/V receiver.
I'm not having any luck troubleshooting the audio problem on my own. Is this part normal:
2021-08-08 06:25:32.217 T:3344     INFO <general>: CAESinkALSA::InitializeHW - Your hardware does not support AE_FMT_FLOAT, trying other formats
2021-08-08 06:25:32.217 T:3344     INFO <general>: CAESinkALSA::InitializeHW - Using data format AE_FMT_S24NE4

Can you try on another TV other than the Vizio as a test?
Sam
I've tested it on a Samsung TV and I do get audio.
Can you post a log from that Samsung?
Did you use the same HDMI cable?
Here's the log when connected to the Samsung TV: https://paste.osmc.tv/inaqebolev
The previous log used a different cable but I've since swapped cables and simplified the connection. Same HDMI cable and same setup (Vero 4k connected directly to TV with the same HDMI cable).
Not really a solution, but I've got things in a good-enough state for now by hooking up an old receiver between the Vero 4k and the Vizio TV. The receiver doesn't support 4k so I lose that ability, but at least the audio is working.
I would be curious to know why audio doesn't work with the vero connected directly to the Vizio TV, but at this point it's more of an annoyance than a problem so don't worry about it.
We'll investigate this shortly
Sam
Hey guys, after update, my vero4k is stuck at sad smiley face. I am trying to fix it , but no luck. Any suggestions, i have tried mentioned ssh commands, but no luck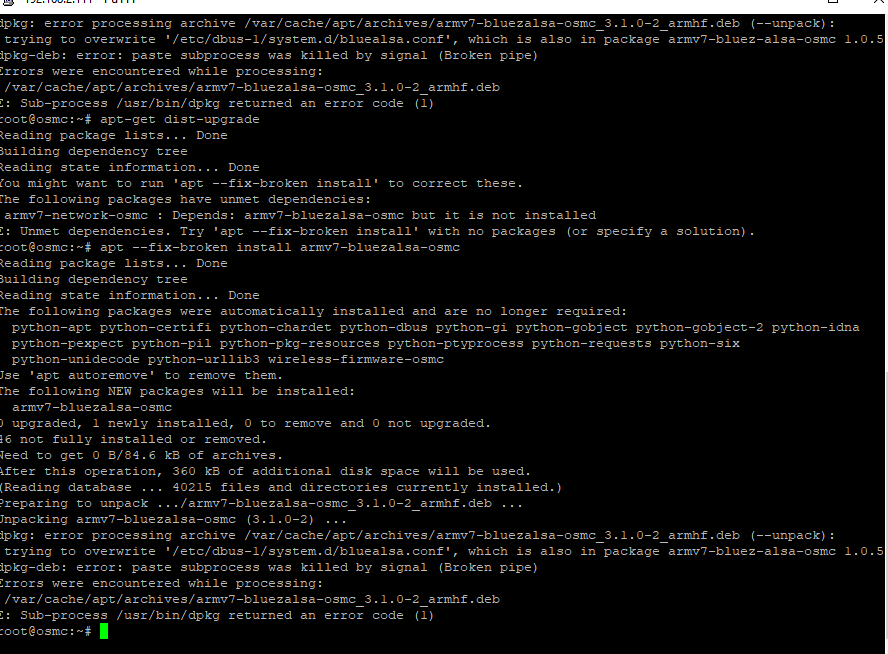 Did you tried the removal commands in this thread?
Removal commands?

I didn't, i reset everything now, unfortunatelly i lost a library settings and stuff, but at least it's working now.