Hi,
I try to set an ambilight system connected to my Vero with Hyperion.
I use an Arduino equivalent as a Led Controller (Adalight).
Here is my setup :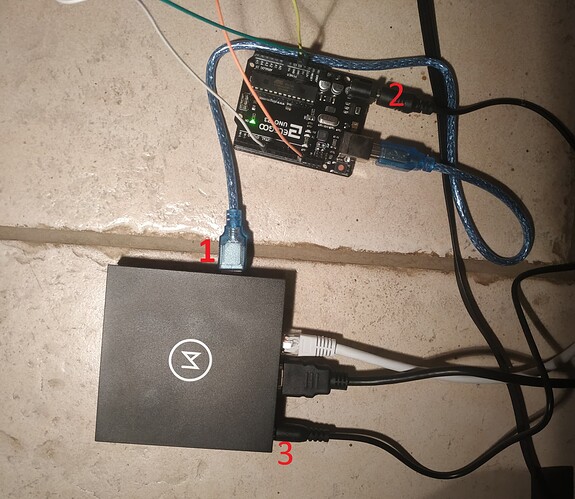 Arduino Uno (equivalent Elegoo Uno, same spec) is connected to Vero by USB (1). It is self powered by an external power supply (2).
It needs to be powered because of the led stripes that are connected to it.

Vero is powered by his own power supply (3).
So when I plug Vero (3), nothing is happening, Vero is not booting.
I tried to switch USB cable(1) from one USB port to the other, it does not work. Vero is not booting.
I tried to unplug the Usb cable (1), then switch on Vero (3) : Vero startup.
Then I plug USB (1), reboot Vero by Kodi interface : It works and my ambilight setup is working.
But if I have to shutdown Vero, I can't turn it back on.
So :
When Arduino is connected to Vero : Vero don't boot.
When Arduino is not connect to Vero : Vero boot, I can then connect Arduino. But I can't shutdown Vero or it won't boot again.
Any idea why Vero is not booting ?
As a side notes :
I noticed that the IR reciever is on (red light near 3) when Arduino USB cable is connected (1) even if Vero power supply (3) is not connected.
Maybe is it an electrical issue on Vero ?

I also tried on Raspberry 3, it works. But I'd really like to get it works on the Vero I just bought
Thanks for help.