I have a Vero4K+ that I have had connected to both an LG 65" 4K/3D LED as well as a BenQ HT-2050, 1080p projector. It worked flawlessly on both right out of the box. On the projector I have it running through a Denon AVR730H which also works flawlessly with anything I have thrown at it including HD audio etc. I had an NVidia Shield connected to it until very recently when I moved that to my living room and decided to just go with the Vero4K+ with my projector. I don't watch a lot of live TV or commercial stations up there, but I do consume a lot of TV and movies including 4K/3D. Again, all worked perfectly with the Shield and the RPi3B+ for all my media.
I recently upgraded my projector to an HT-3550 which is 4K/3D. I have a general issue with how long it takes to sync (I believe that's what's happening) and send a usable both audio and video signal to it. What I mean by that is that the audio will play pretty quick, but depending on the source media it can take 20+ seconds to get an image on the screen for 4K material and somewhat less for 3D media. I went in and adjusted the media start delay to 10 seconds so the audio wouldn't start so long before the video. I'm hoping though that there is a way to optimize this so it is faster. That's more of an annoyance than a problem.
The main issue I have had is the sporadic failure of particularly 4K media to display proper video at all. I went in and whitelisted every resolution in the list and in conjunction with the "HDR processing" setting set to "Force Passthrough" it is better, but still not 100%. I was using the new Top Gun and Thor movies as test media. I ripped them using MakeMKV to an uncompressed, HEVC file. Yes, the files are huge.
By whitelisting everything I got these two movies to play most of the time. Top Gun is pretty consistent and Thor plays most of the time. When a movie does not play it is either a blank screen (projector thinks there's no signal) or I get what looks like the horizontal hold is way out of whack: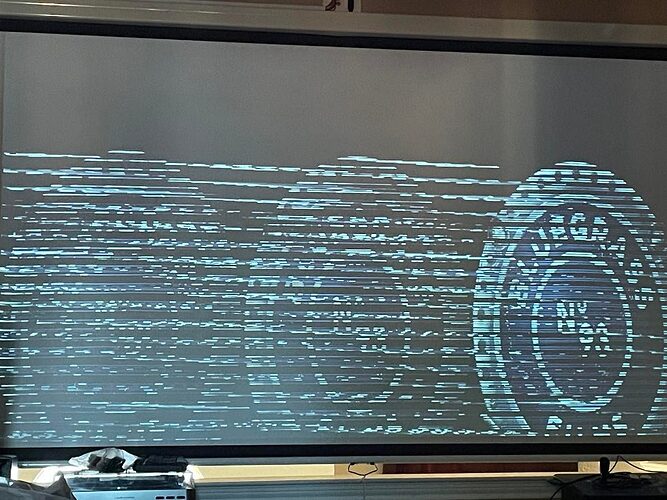 This is a different movie (compressed 4K) that is doing it now, but in my trials I have tried many of both and it doesn't seem to be affected by whether it's compressed or not.
Anything with a resolution of 1080 or lower is not affected by the video issue, but there is still a slight delay to start even with 2D, 1080 media.
The only things I can see that might be a bit funky is that the media files have sync rates slightly different than any of the whitelist options. So far all the movies I've had an issue with are 23.976Hz. In the whitelist options the closest thing is 23.98Hz. Since some play and some don't I have no idea if that's an issue, but it's the one thing I'm noticing. Also, some of the videos come up as "2159p" instead of 2160p. Is there something else I can look at for this? I can't be the first person who has seen this issue and oddly it played fine with the same brand 1080 projector.
Am I even looking in the right area for this issue? Appreciate any help!