First of all:
Device: Rasp Pi 2
Installation media: SDcard
Connection: (Wired,) Wifi
Power Supply Type: Samsung and Goobay
Power specs: both 2A
Peripherals: Wifi-dongle, (wireless mouse)
Storage Device (incl. Network Sharing Protocol): none
OSMC version: 2015.07-1
XBMC version: (15.1-RC1 Git:Unknown). Platform: Linux ARM (Thumb) 32-bit
Codecs: none
Audio/Video Output: HDMI
Overclocked: no
Config.txt Extras:
LINK to uploaded logs in pastebin: http://paste.osmc.io/lutehisoru
Ok, here's the story…
I have a Pi2 with a hifiberry-addon. Until two weeks ago everything works fine. I was connected via wifi and no interupts (ok, once a week, but a reboot helped). About two weeks ago the wifi stopped working. I got constant package drops. Connected with LAN works. You can see at the first screenshot how dmesg looks like and pings from my laptop.
Some days after osmc-update 2015.07-1 released.
I updated and tried again. Since then I have the GPIO_IN=08-spam problem ( Logging SPAM (GPIO_IN=08) - #28 by vanMacG ). The package drops are still the same although I can't find them in the dmesg anymore (see also screenshot two).
What I already tried:
Switch the power supply
max_current-option in piconfig
demount hifiberry
Any ideas on this issue? Thanks for helping!
screenshot 1: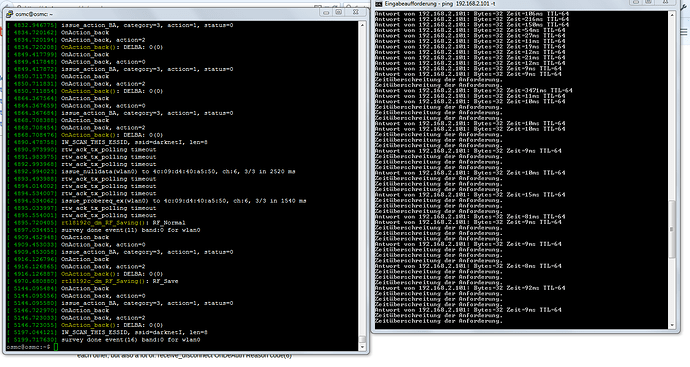 screenshot 2: