Hello guys!
I have an external USB sound card Asus Xonar U5. This is how it's recognized by the raspberry pi 3 (OSMC April 2016.04-1):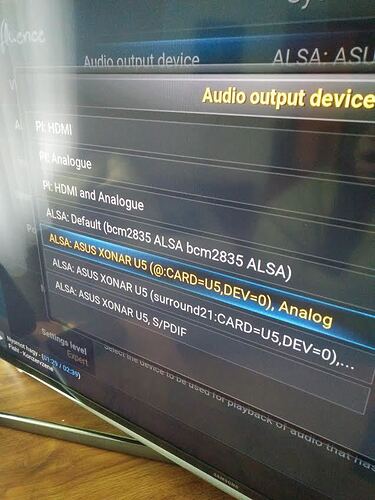 So the problem is that, when I set the "Number of channels" to 5.1 (2.0 works fine) there is no sound. Sometimes I can hear the basic "GUI sounds" (clicks), but there are situations, when nothing is coming from the speakers. I tried the second option (surround21), but I only get white noise.
I tried to turn on DSP addons, but didn't helped. But the interesting thing is, that when I was changing the audio settings, somehow I got it work. The sound from the background movie was actually in 5.1, I went to the rear speakers and YEAAH, the sound was coming from them too. But it didn't last for long… When I stopped the movie, an annoying white noise appeared and I couldn't get back the 5.1 surround again.
I have no idea if this is caused by the new update, but does anyone have this kind of sound card or external usb card? How did you set it up to work in 5.1? Thanks for any kind of info.
PS. Oh, and I tried to install pulsaudio too, but it didn't solve anything, so I removed it.