Hello!
I just got my Vero 4K+ today and I am trying to mount my Videos via NFS from Windows Server 2016 but am stumped. I haven been going through the various forum posts in NFS mounts and everyone's problems seem to be slightly different than mine.
I am a noob coming from LibreELEC where to add my NFS folders I went to Movies ->Add Videos->Browse to my NFS Share, click on the folders and that's it. When I try to replicate these steps on my Vero 4K+ I can click on the NFS Share up address, open the first level folder but can not move past the initial folder eg. nfs://192.168.1.28/video but I can not access folder1 in /video.
My NFS settings on windows are below and I have added the up address of my Vero 4K+ To the list of permitted users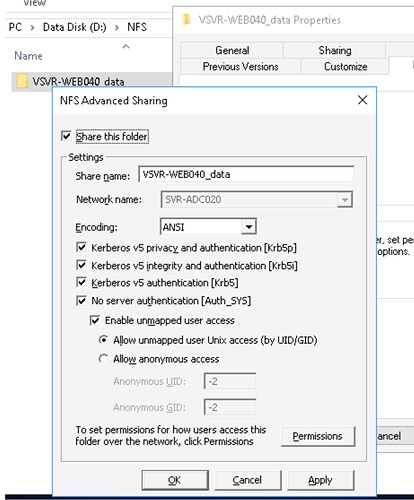 Can anyone please help?