Bluetooth configuration
Bluetooth is part of the Networking module, accessed via My OSMC by selecting this option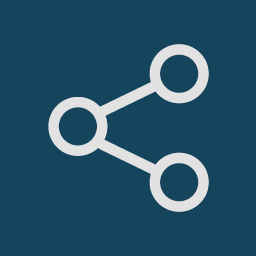 Note: Vero 4k and some Raspberry Pis have bluetooth hardware built in. Otherwise, the Bluetooth tab will only appear if you are using a compatible Bluetooth dongle. OSMC manufactures and sells a compatible dongle, available for purchase here.
The Bluetooth page of the Networking module allows you to connect and disconnect devices.
You can enable or disable the Bluetooth adapter using the Enable Bluetooth toggle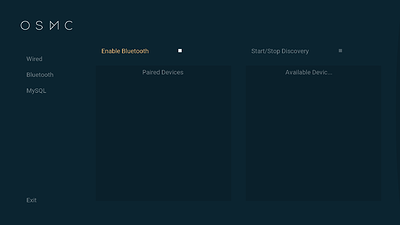 To connect/pair to a Bluetooth device:
Enable "Start/Stop Discovery" in OSMC's Bluetooth Menu
Follow the instructions for your device, to put your device in Discovery mode.
Once the Bluetooth device is detected, it will be listed under "Available Devices"
Select the device you wish to connect to and a Connect to device ? menu will appear.
You can then choose from the following 3 options:
No - Cancel and go back to previous menu.
Pair with Pin - Many Bluetooth devices allow the use of a PIN or Passkey to create a more secure connection.
Some devices, like keyboards, require you to type a pin into them to complete the connection. In this case when you select "Pair with Pin", OSMC will display a PIN, and you simply type that PIN into the keyboard, followed by the "enter" key.

Some devices, like BT enabled phones, will display a PIN on their screen. Simply follow the prompts on both the device and OSMC, to pair these devices.

Some devices, like mice, have no way to allow entering of a pin. OSMC should still connect to many of them.
Connect without Pin
This allows you to connect some devices without using passkey or pin. Try Connect with PIN first,and if it doesn't work, try this.
If you are pairing an audio device, then read this.
To reconfigure a Bluetooth device which has already been connected, select the device from the "Paired Devices" on the left side and you will get 3 options:
Cancel - Cancel and go back to previous menu.
Reconnect - Some devices will not automatically reconnect to OSMC. This option will tell OSMC to try to initiate a connection to a previously paired device.
Remove Device - Disconnect the device from OSMC and forget the pairing.