Hello,
I need some help with my Samba share settings.
I have an NTFS formatted SATA HDD attached to the Vero 4K+ with a SATA to USB 3 docking station.
In /etc/fstab I added the following line:
UUID=1822F42222F40692 /mnt/BackupDrive ntfs defaults,noatime,auto,nofail,x-systemd.mount-timeout=30 0 0
Read access from my Windows 10 PC works fine. Pretty slow at 10 MB/s though.
But the issue is I can't write to the drive, it says access denied: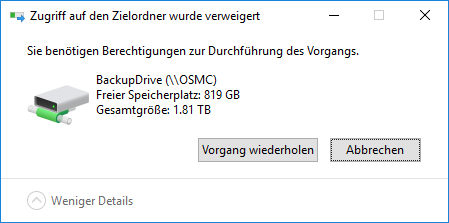 Writing on automounted exFAT USB drive and NTFS USB external HDD works fine. The SATA HDD won't show in Windows that way though, only when mounted via fstab.
Maybe smb-local.conf needs some edtiting?
Any help is appreciated.