YES! It finally arrived. Two of them, because you know - one might be wormy.
Unboxing was… like nothing else!
No, no that's a lie. It was a pretty boring unboxing. Quite similar to the Vero 4K unboxing, in fact. Same remote, same power brick (probably - I've no idea. I didn't want to do yoga trying to remove the existing one from my Vero 4K). It's nice that Sam personally included a special HDMI cable for me… (and everyone else who buys a Vero 4K+).
So, the physical product looks amazing. It's light-years better looking than the original Vero 4K. I mean, LOOK AT IT next to the original Vero 4K!!! The Vero 4K is on the right. Probably. I think.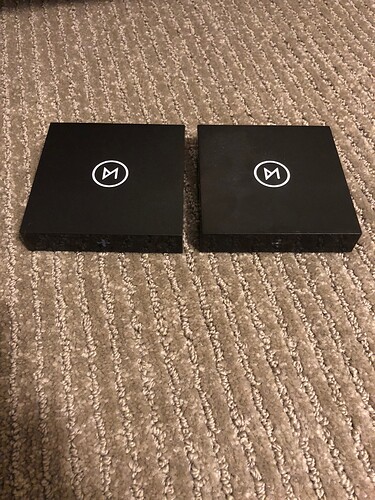 So, let's get SERIOUS:
1.) Setup is much the same (i.e. the same) as the original Vero 4K. It takes mere seconds. First things first after getting into the main menu. I ran the update to the August build (mine shipped with the July build). Just to keep me on my toes, after rebooting for the update, the Vero 4K+ crashed on startup with the SAD FACE, and - amusingly - switched my OSMC skin back to the OSMC skin it ships with (despite my having switched it to the Kodi skin, wtf?).
Anyway, after crashing it came back up and has worked without issue since.
2.) At this point I did a restore from a USB drive of the backup I made of my Vero 4K minutes earlier. It's worth noting that it does take a couple of minutes for the restore to even start. You may think nothing has happened, but DO BE PATIENT.
3.) The only things I have installed on my Vero 4K (and now Vero4K+ model) are a few TV apps (ESPN, FOX Sports), Plex Kodi Connect, and the Plex add-on itself. I did notice that thumbnails took a bit of coaxing to reappear. Whether it was a few reboots, or a few manual syncs - but they're all finally there in both Plex/PKC.
What else?
1.) NO MORE BLUE LED! Hallelujah! Almost worth the price of the upgrade alone (almost). Now the Vero 4K+ is an unassuming box, finally, as it should be. Let me watch my TV without being blinded or stuffing the box somewhere it can't be seen. Yay!
2.) Speed increase? Uh… ok? I don't see it. Maybe there are certain circumstances where it's visible, or maybe it reduces the chances of frame skips/drops in certain outlying situations, but… I don't see any speed increase on my end. I was (I have to admit) a tad disappointed that scrolling through Plex or Plex Kodi Connect movies etc that the Vero 4K+ can't maintain 60fps when scrolling through movie posters. It may be a little smoother than the Vero 4K, but… it's certainly no Apple TV 4K + Plex in terms of silky smooth scrolling.
3.) Gigabit ethernet. OH YES. This is a major improvement. I'm not one for messing with file-system modifications or any of that stuff. I want to turn on the Vero, connect to my Plex server over ethernet, and watch movies. With the Vero 4K (non-+ edition), there's a TANGIBLE improvement when using the USB->ethernet solution (around 324Mbit). Snappier reads and seeks/chapter selection etc in movies. With the Vero 4K+, it's even better. It's noticeable on fast forwards and rewinds, and chapters skip on UHD movies in a flash. Love it. iperf3 reports a consistent 930Mbit speed from my 2014 Mac mini to the Vero 4K+. Yay!
So, overall, if you don't have a Vero 4K, you should buy one. That goes without saying. If you have a Vero 4K, don't expect a massive difference unless you love speedy networking. That said, I love love love what the team is doing here, and so for me it's worth the money just to support the project.
Overall, some slight quirks aside, the Vero 4K+ is still absolutely worth the money. Just think of it as… it's now better value for money than it was last year!
Cheers, Sam and the OSMC team!