After RaspBMC on the RPi1 and OSMC on the RPi2 + 3, I'm now the proud owner of a Vero 4K. It's working fine with LG's HDR Chess Demo on my LG B6D stored on the Vero's internal storage. To get it to its full potential, I'd like to mount the typical Kodi libraries Movies, TV Shows, Music and Pictures to a NFS share via /etc/fstab on a new Synology DiskStation 918+ running DSM 6.1. So I read the NFS in DSM guide in the Kodi wiki and Wuschel_Wuschel's great tutorial on how to mount NFS shares via fstab on OSMC.
Right now, the shared folder structure on the NAS looks like this: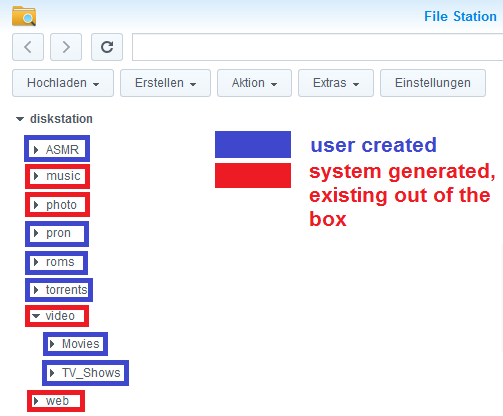 The reason behind this is I'd like to share photos, music and video files with friends and family, preferably via Synology's apps. As I'm lacking a mobile device, unfortunately I can't test their apps on my own. Friends and family are a wild mix of tech-savvy users and … well … people who struggle with the concept of menu on any device. To make it as easy as possible for them, I'd like to keep these system-generated folders as they are. Besides, search engine results suggest it's possible but tricky and not really recommended to change the default folders.
If it weren't for that, I'd just create a folder called nfs like Wuschel_Wuschel suggests in his tutorial and put all other folder inside there. The thing is, I can only set NFS permissions for the single folders from the screenshot above, but not their parent folder volume1.
To get to the point: will it affect NFS performance, if I mount about 8 NFS shares instead of only 1? If no: wonderful! If yes: what'd you recommend?