Vero 4k review
---
The reason
---
Off course, as a systems administrator who has worked in IT for 20 years I could buy the cheapest option, a Raspberry Pi 3 or some cheap Chinese player. So why would I spend 119 pounds / 146 euro on a media player?
The first reason for me is that I used Raspbmc from Sam on a Pi way before he founded OSMC, which was always very well supported and updated. The support is now five (!) years on the Vero 4k, this is priceless. Monthly upgrades to keep everything run smoothly. Online you can always ask your questions and get a response from Sam, his team or even the community.
Also the hardware choices OSMC makes are the ones I would make myself. I remember that on the Vero 1 Sam tested the power adaptor rigorously, even with graphical representation. While most companies would go for the cheapest option.
The order
---
I ordered my Vero 4k in the weekend, and on Thursday it arrived in the Netherlands. Well packed, a box in a box with protective material. It was necessary, at the post office they like to throw those boxes around. What don't they understand about fragile?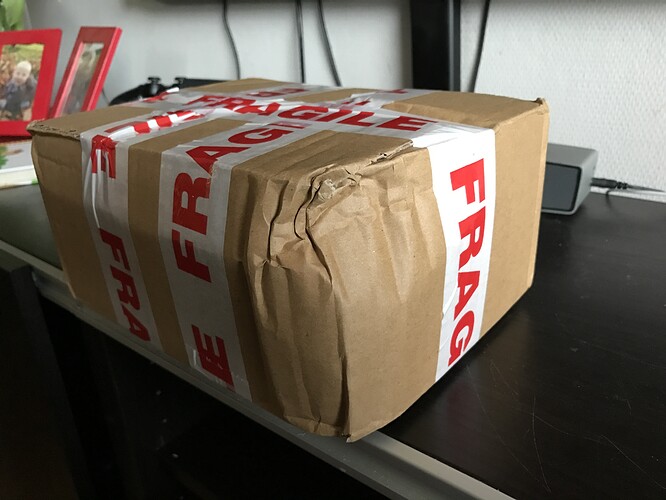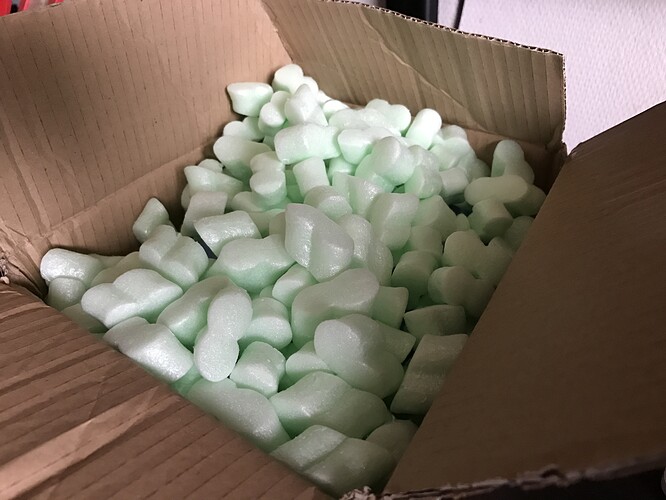 The box and its contents
---
The Vero 4k features 2GB of RAM, 16GB of eMMC storage, optical audio, Bluetooth 4.0, fast Ethernet at 100 mbps which is really more than you need and much more stable than the 10/100/1000 version. Wireless AC. Chipset - Amlogic S905X, quad core 1.6Ghz 64-bit SOC.
HDMI 2.0 for up to 4k at 60fps playback, VP-9/HEVC/H265/H264, HDR10 & HLG HDR Processing. For the less technical people, it plays almost everything and it plays it well, even if you buy a brand new 4K TV with HDR10 in the future.
HDMI CEC for control of Vero with your TV remote, if you TV supports this. Operating system Debian (Linux). A power adaptor for your location is automatically added, in my case EU. A RF USB receiver a RF Remote. IR receiver for the users that use an older remote. A bracket to mount the Vero behind a TV or on a wall. One HDMI cable.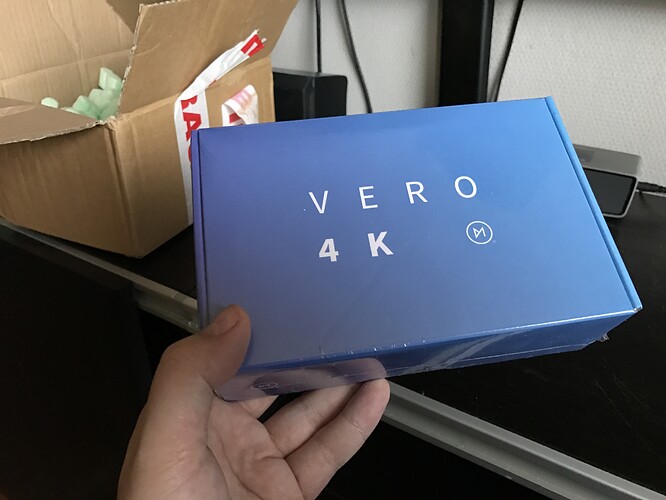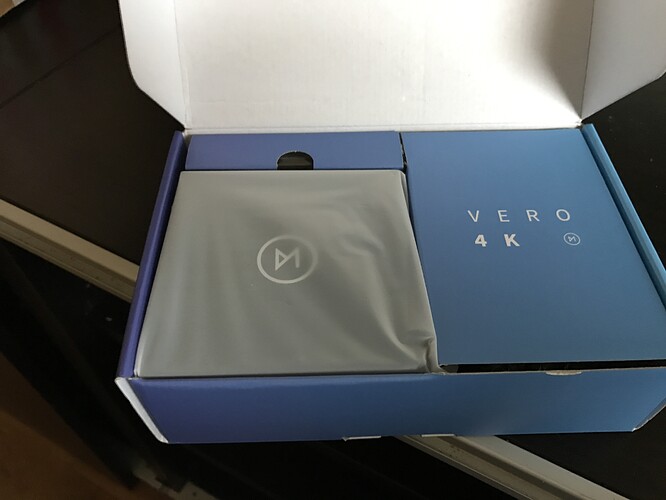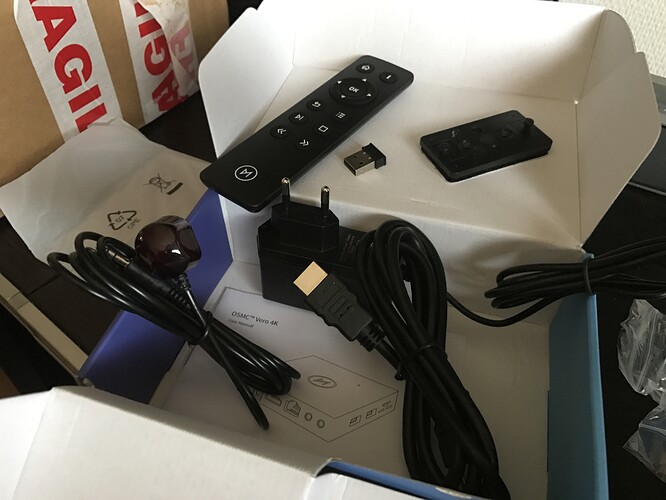 The verdict
---
Setup was almost too easy, choose language, time zone, skin and done! The navigation runs smooth, a lot smoother than on the Vero 1.
Everything plays, everything works out of the box. I exported the library on my Vero 1 in Kodi and imported it on the Vero 4k so that the watched videos stay intact and also remembers where you were on an episode.
The option Settings/Player → Sync playback to display, made the videos run even smoother. Pass-through sound can be affected. I only noticed a few glitches in sound after enabling it and only in Kodi not during video playback.
No Android support, yet. But running Kodi on Android causes a lot of overhead and I watch Netflix on my PS4. It would be nice to have the option to boot to Android to watch Netflix. If enough people want this, the OSMC team will build and support this.
I use the Estuary skin because the OSMC skin is not as clear and doesn't have a lot of options for series like, Watching, not yet seen shows, etc. I'm sure OSMC is still improving their own skin and I will check the skin every couple of months.
If I do a lot of seeking in a video the video sometimes hangs, to solve this stop and start the video. I really don't think this is a Vero 4k issue but a Kodi Krypton issue. The version of Kodi that is the default for Vero 4k.
Plex is also installable in Kodi/OSMC, for now you need a Plex Pass but it offers streaming of your own content from a Plex Server. The YouTube add-on is a must have. Also Library Update for automatic library updates and the Kodi add-on subtitles. If you're in the Netherlands Uitzending Gemist too.
I do not think I will buy anything else than Vero in the future.
I would like to know what the community thinks? What is your opinion? Do you have any doubts? Is there something you miss, a must-have? A no-go? Still on Vero 1, 2 or a Pi and happy? Feel free to ask, discuss or to give your opinion, there is no wrong one!
A small poll to see your opinion, anonymously.
---
I am on Vero 1, I plan to buy a Vero 4k.
I am on Vero 1, I do not plan to buy a Vero 4k.
I am on Vero 2, I plan to buy a Vero 4k.
I am on Vero 2, I do not plan to buy a Vero 4k.
I am on a Raspberry Pi, I plan to buy a Vero 4k.
I am on a Raspberry Pi, I do not plan to buy a Vero 4k.
I don't have a Pi or a Vero but I plan to buy a Vero 4k.
None of the above and I do not plan to buy a Vero 4k.
Hope to hear from you all, the kindest regards,
Duncan Sluijter
The Netherlands