Installed Yatse and it works fine, so just seems to be web interface that affects it

I used Chorus2, http, port 80, no authentication, no ssl and OSMC skin.
So strange it works on yours, i do have Authentification on, but as Yatse works with same details. I really cant understand why its different, its as if its opening the file differently or not stopping previous.
Maybe its time for a fresh install

Just found something wrong in your config but I'm not confident this has to do with your issue:
Under settings->system->audio you configured the audio channels as
Number of channels: 2.1 ===> Default: 2.0

means 3 channel config, left+right+sub.
But your connected Samsung TV reports to be only able to do
PCM, 2 ch, 32/44.1/48 kHz, 16/20/24 bit

So, I suggest to correct this audio setting to number of channels = 2.0.
Odd. As TV has soundbar and sub at side
This repository shouldn't be unstable – it will be released next Sunday as a stable update as is.
Sam
So, is the Vero connected to your TV or the soundbar? Nevertheless, this device reports to by able to process 2 channel PCM, only.
Well, as I said I assume this is a sideshow to your real issue.
vero 4k hdmi to tv
tv to soundbar with hdmi (arc), then soundbar to xbox
Well, it is as it is: The TV tells the Vero that it is only capable to process 2 channel PCM. So, don't try to give it other sound formats, then.
changed it to 2.0, still same
I probs changed it when i got it, as subs definetly on and working. no idea why it wouldnt take 2.1 input but there nothing in sound options to change just says PCM or bitstream
It's not problem of your soundbar but the TV: Look at your TV manual since the TV has to forward the audio signal to the soundbar, then. Perhaps, there is a HDMI port of your TV which has more audio caps than simple PCM 2.0.
Yeah the HDMI(1) has Arc and game play, rest are just normal.
Dont really want Vero plugged into soundbar as its annoying to have to select on soundbar to use the HDMI passthrough
What's the model string of the Samsung TV? Latest greatest firmware installed?
Its a UE40MU6400UXXU
on the below which is latest on website and clicking on upgrade on TV says none available
ver 1310.1
1286.34 MB
Jun 28. 2022
It is as it is: The related e-manual states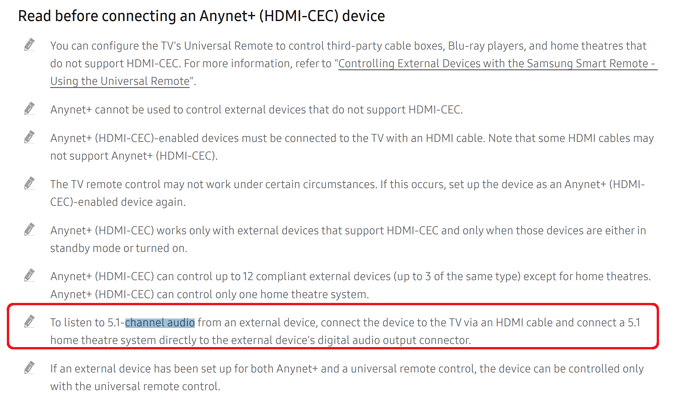 So, this TV only supports PCM 2.0 via its HDMI input ports.
Now, let's wait whether the coming update will change anything to your video stutter issue.
Cheers soundbar has optical input ill see about getting a cable, doubt therell be any improvement with sound quality thou
Hi Sam, did the update get released?
cheers, I checked in news this morning at work and couldnt see anything
yeah the update fixed the stuttering issue