OSMC settings - Shop.
Is that right the "DefaultHardDisk.png" in the screen?
lol I noticed that today as well only seems to be when you are on the ftp server. running latest osmc update on vero
nobody confirm. nobody deny. To be or not to be an issue!?
after todays update, issue still persists
error persists in RC3.
I couldnt find this in github code to make a PR.
seems an easy fix…
What skin are you using ? Nobody else has reported this.
I saw that error yesterday too, running RC3 with default OSMC skin
Is it always there or did it appear after the dim screensaver activated by any chance ?
If you think you know what the cause is, why don't you just tell us ?

The app store module is here:
It is always there, only visible when hovering FTP
No, it's because it's not happening to any of the OSMC devs. If it was we would have noticed long ago. Here is a screenshot taken using Confluence on my Vero if you are sceptical:
I don't see it on any skin I've tried, for any App store entry and regardless of mousing over the icon. In short I can't reproduce this problem, and I have been testing OSMC on three different devices since last year.
Can you please post your debug logs, in particular I would like to see the OSMC package versions.
Anything wrong in my logs?
@DBMandrake i installed in my old RPI 1 and I don't have this issue there BUT I don't have any HDD attached there. I do have two hdds in my RPI 2.
Do you have any HDD connected?
@Slab1 what about you?
when I open shop, It happens fast but a disk image appears then OSMC image replaces it.
I have two OSMC. This only happens in the OSMC with HDD connected directly to RPI
See my screenshot with VNC: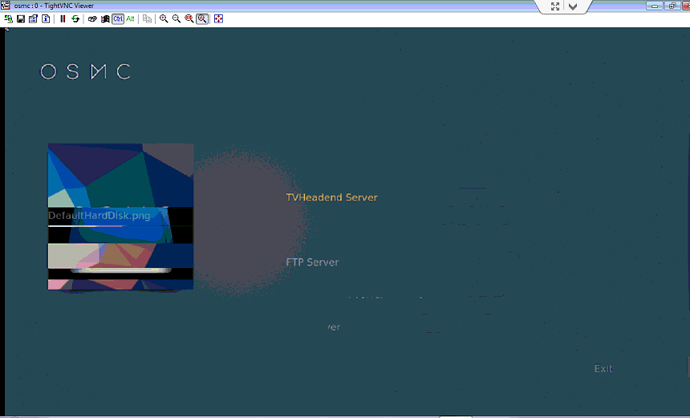 @slab1 did you noticed that?
What skin are you using?
Sam